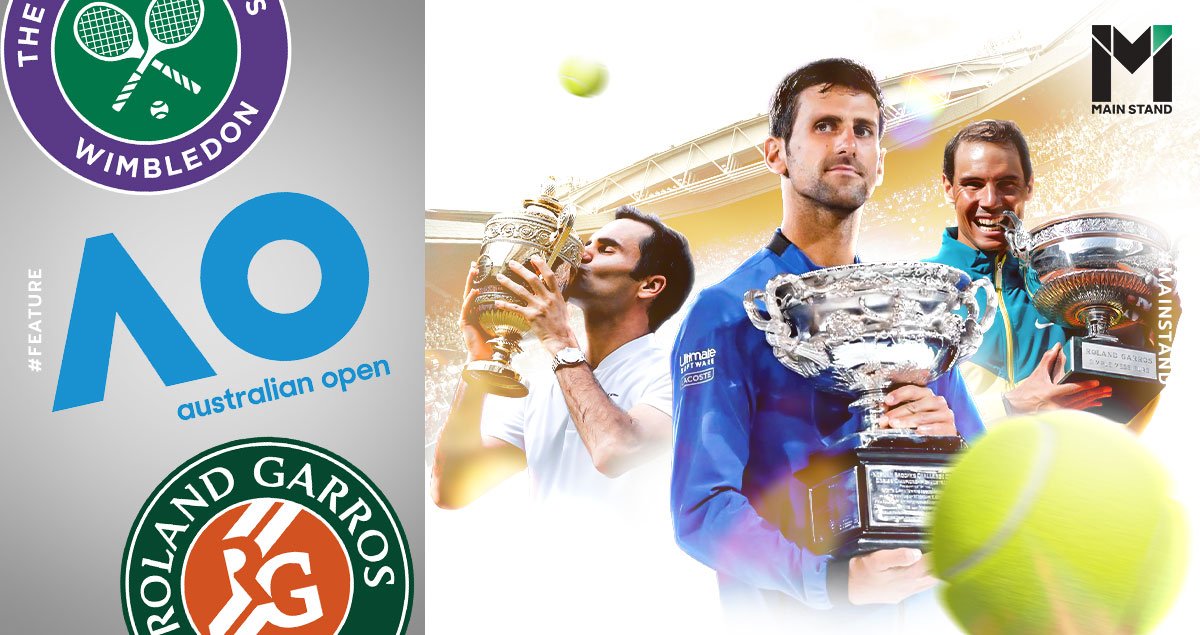 Have you ever wondered why Novak Djokovic, Rafael Nadal and Roger Federer have each dominated one specific Grand Slam?
Within the tennis community, Djokovic is hailed as the "King of Australia", Nadal is regarded as the "King of Clay" and Federer is revered as the "King of Grass". 
The three are widely considered the greatest tennis players of all time, but their success has been distinctively spread across surfaces, with each player having a preferred surface where they excel the most, especially at the Grand Slam level.
Djokovic has won ten of his 22 Grand Slam titles at the Australian Open, Nadal has claimed 14 of his 22 major titles at the French Open and Federer has hoisted eight of his 20 slam titles at Wimbledon, making them the unanimous record holders of each tournament.
Hence, here on Main Stand with Agastya Bajaj, we will examine how Djokovic has dominated Australia, Nadal has conquered the French Open and Federer has ruled Wimbledon, explaining why they have earned their mantle of "the king" at that specific tournament. 
The King of Australia
The Australian Open has been graced by the greatest tennis players in history, but none have dominated it quite like Novak Djokovic.
Fifteen years after his first triumph, Djokovic found himself back in the Australian Open final on Sunday, beating Stefanos Tsitsipas to claim a record-extending tenth title down under.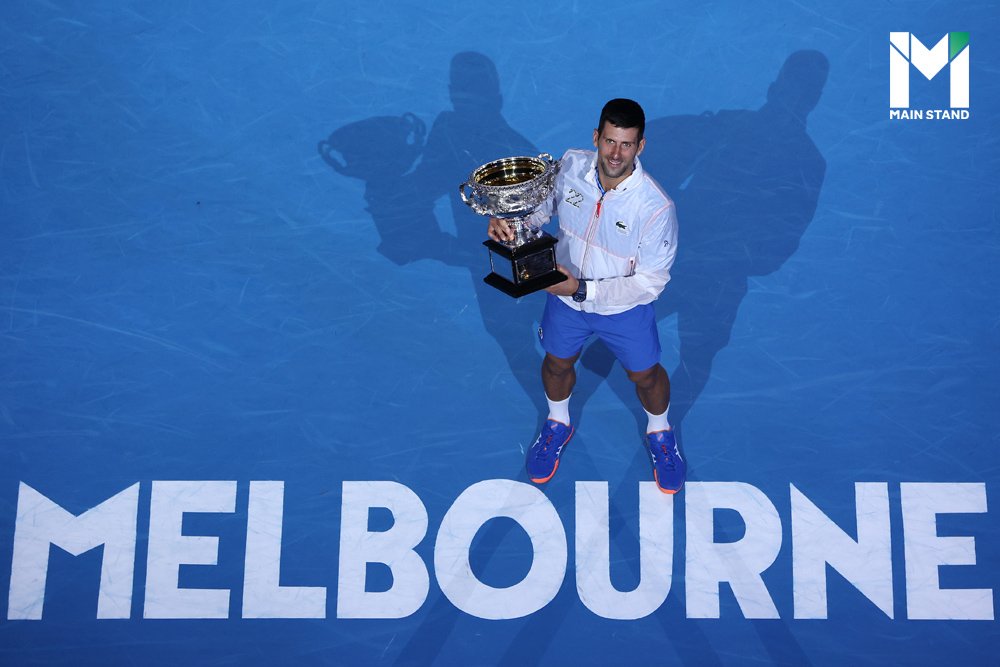 As a matter of fact, 35-year-old Djokovic is carrying a 28-winning match streak at the tournament, the longest in the competition's history, having lost only one full match since 2014.
The Serbian also clinched his fourth Australian Open title in a row, a feat nobody has achieved before, with Federer (ranked second in the all time Australian Open titles list), hoisting six titles in total. 
Why is Djokovic so dominant in Melbourne? 
Djokovic is known for his exceptional fitness, and with the tournament played at the beginning of the season, it allows him to perform at the peak of his physical capabilities.
Additionally, the tournament's court speed has fluctuated over the years, going from one of the fastest hard courts in the sport to a medium-fast speed court.
This suits Djokovic's style of play, giving him the added impetus to take time off his opponents' serve, maximize his court coverage and produce robust and reliable performances from the back of the court.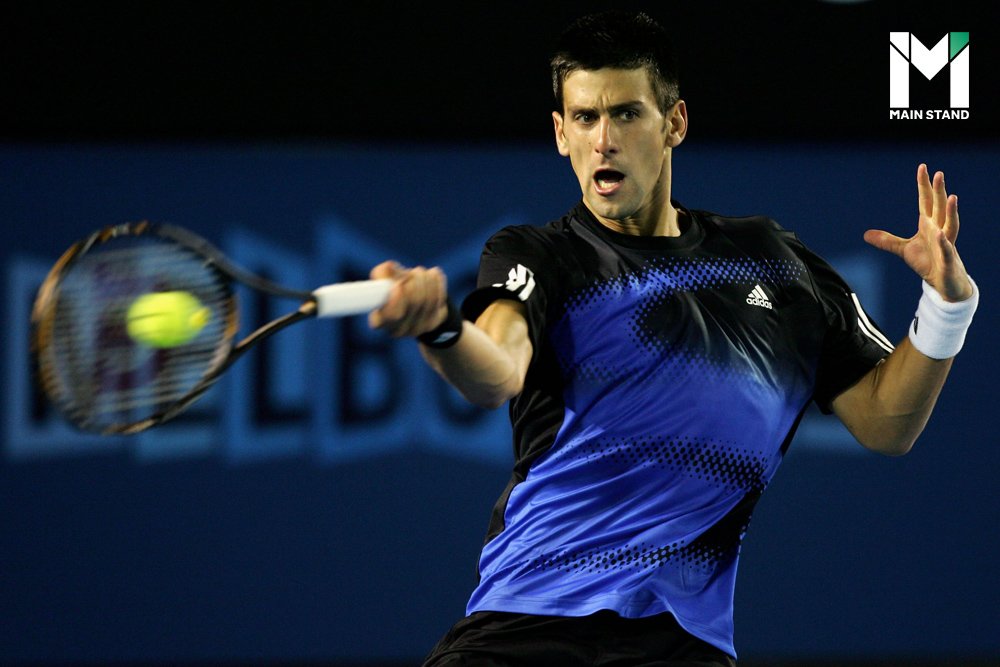 Regardless, even with these court speed changes, Djokovic has still managed to find a way to sustainably dominate the Australian Open since he burst onto the scene. His reign began in 2008, when he claimed his first title. 
He went on to win three consecutive titles between 2011 and 2013, including a historic five and a half hour victory against Nadal in the 2012 final, making him the only player to achieve a three-peat in the competition's history.
Djokovic's impressive performance continued in 2015 and 2016, when he defeated Andy Murray in both finals to claim his fifth and sixth respectively. 
After a two-year dip plagued with injuries, Djokovic regained his imperious form in 2019 and has since secured four consecutive titles, making that 10 titles in 16 years. 
What makes Djokovic even more herculean in Melbourne is his record in the semi-finals and finals of this tournament. 
He is currently still undefeated in all of his appearances in the latter rounds (winning his 10 semi-finals and nine finals), a testament to his unfazed nature under pressure and ability to execute the big points like no other has in the history of this sport.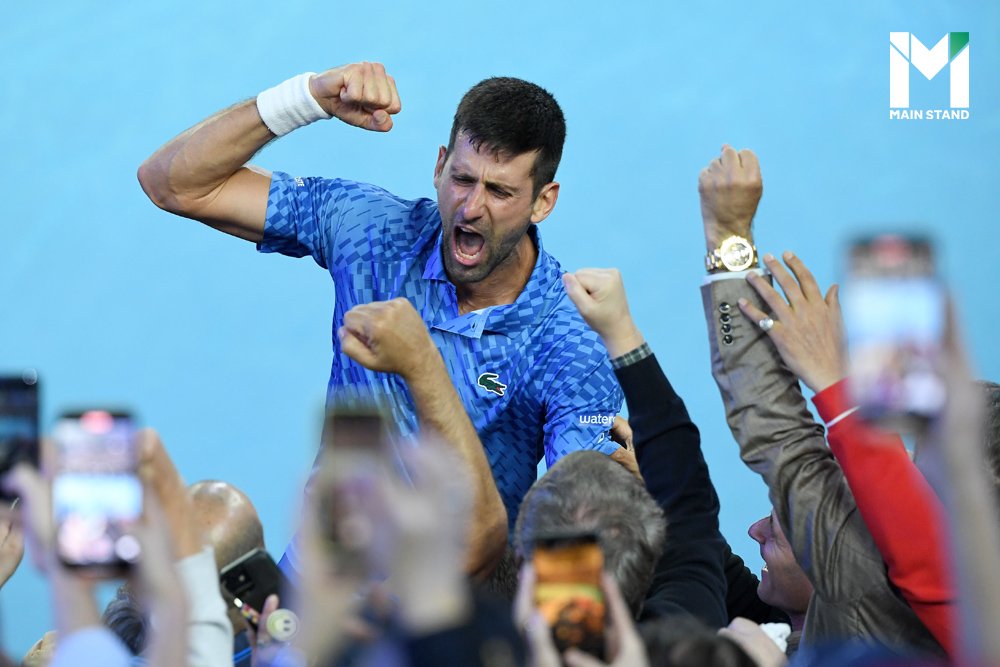 With his seemingly impenetrable mental fortitude, stamina, experience and style of play, not only is he still a heavy favourite for the title in his twilight years, but this has earned him the title of undisputed king of tennis in Australia.
The King of Clay
When we talk about dominance in tennis, the first thing that comes to everyone's mind is Rafael Nadal's love affair with the French Open.
The French Open (also known as Roland Garros), is the second Grand Slam of the season, held in June after the two-month clay season.
The main difference between clay and hard court (specifically the Australian and French Open), is the surface material and the ball-bouncing mechanics.
Clay courts are typically slower than a hardcourt and the balls bounce higher, giving players more time to react during a rally.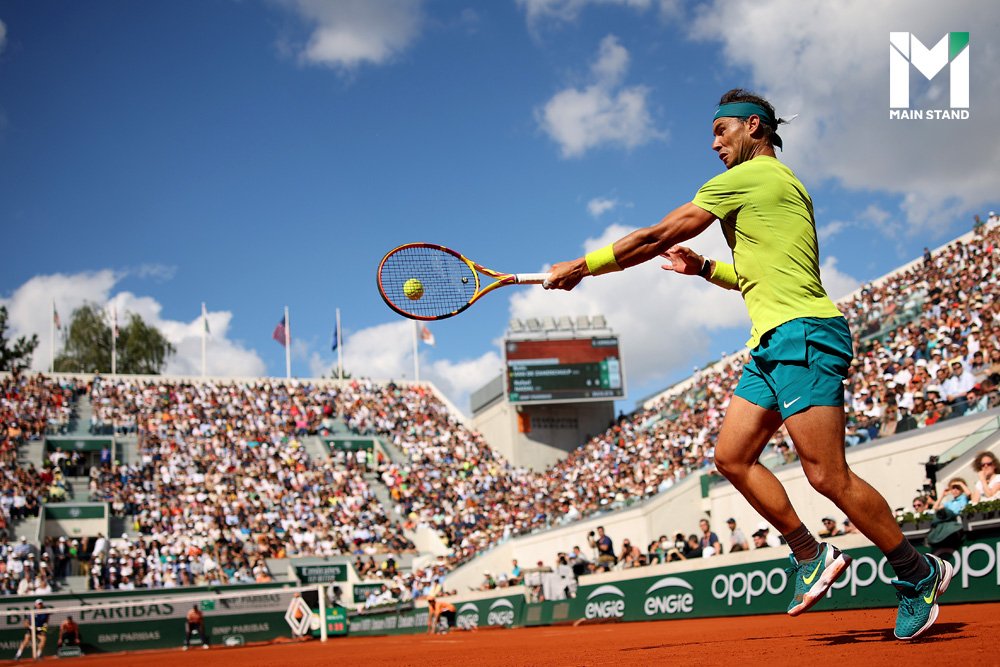 At the French Open, Nadal doesn't just pose the most dominant record in tennis, but arguably in sporting history.
The Spaniard has accumulated 14 of his 22 major titles in Paris, winning 112 of his 115 total matches at Roland Garros.
His only defeats at the event have come to Robin Soderling and Novak Djokovic (twice) in 18 appearances.
On clay as a whole, he has won a staggering 63 titles, 24 more than anybody else has in the history of the sport.
And it's not just his ability to record victories on clay, it's his inevitability and sheer indefatigability.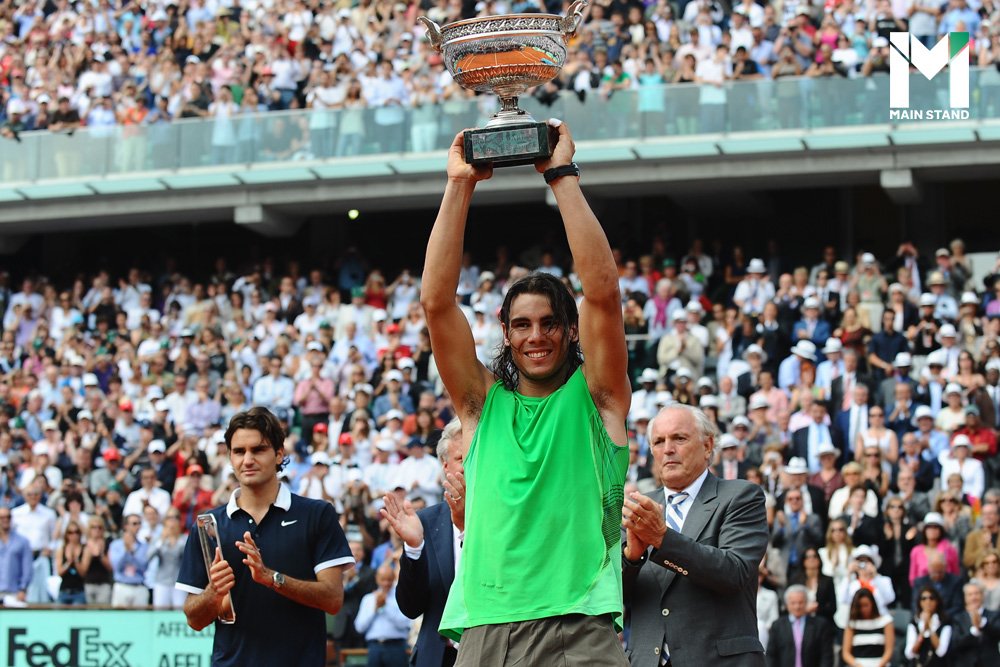 Nadal has managed to record some of the sport's most gruesome, one-sided victories at Roland Garros.
Most memorably, a 6-3, 6-1, 6-0 hammering of Federer in the 2008 final and 6-0, 6-2, 7-5 annihilation of Djokovic in the 2020 final.
He also has a 97.6% win rate on the red clay of Roland Garros, only dropping 34 of his 374 games. 
To put that in context, he drops just ONE in every 11 games in a match, another one of his many unfathomable and inexplicable statistics on this surface.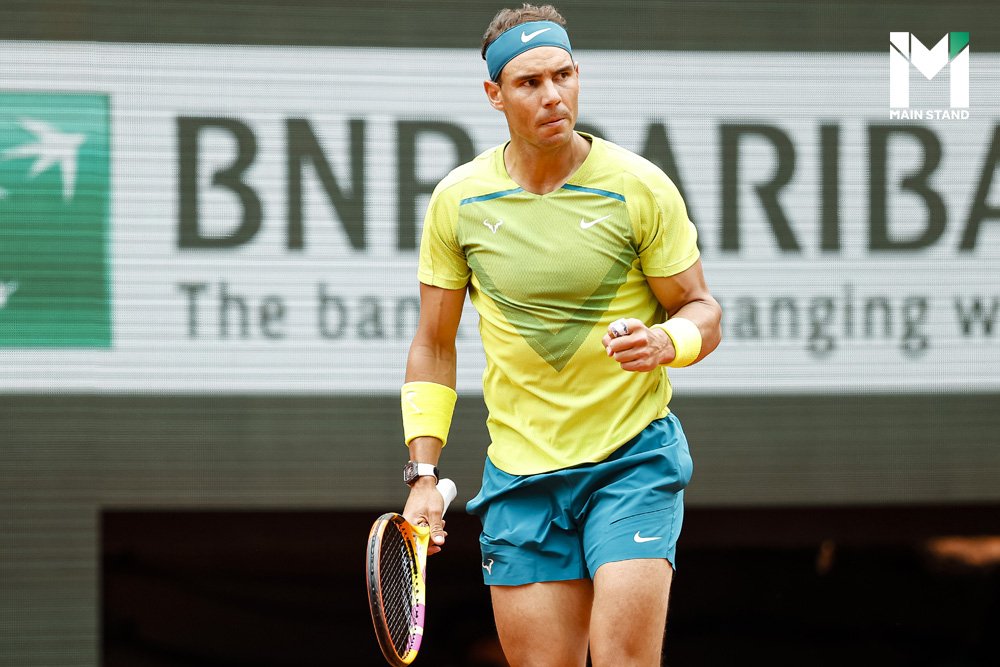 Nadal's aggressive baseline game, heavy topspin forehand and exceptional movement, has allowed him to comfortably slide across the clay and generate more spin on the ball.
He also has the acute ability to read and swiftly adjust his tactics on court, making him not only physically invincible, but intellectually and mentally too.
The 22-time Grand Slam champion is one of the greatest players in the history of the sport, but his dominance at Roland Garros is quite simply unrivaled and has more than merited him his mantle.
The King of Grass
Many consider Federer to be one of the greatest spectacles in sport, embodying class, charisma and elegance.
His ability to "dance on court and wave the racket like a wand like no mere mortal has before" is an unprecedented sight to behold.
Especially at Wimbledon, a tournament hailed as the pinnacle of the sport, played on a grass court and held several weeks after the French Open, it makes his achievements all the more glamorous to tennis fans.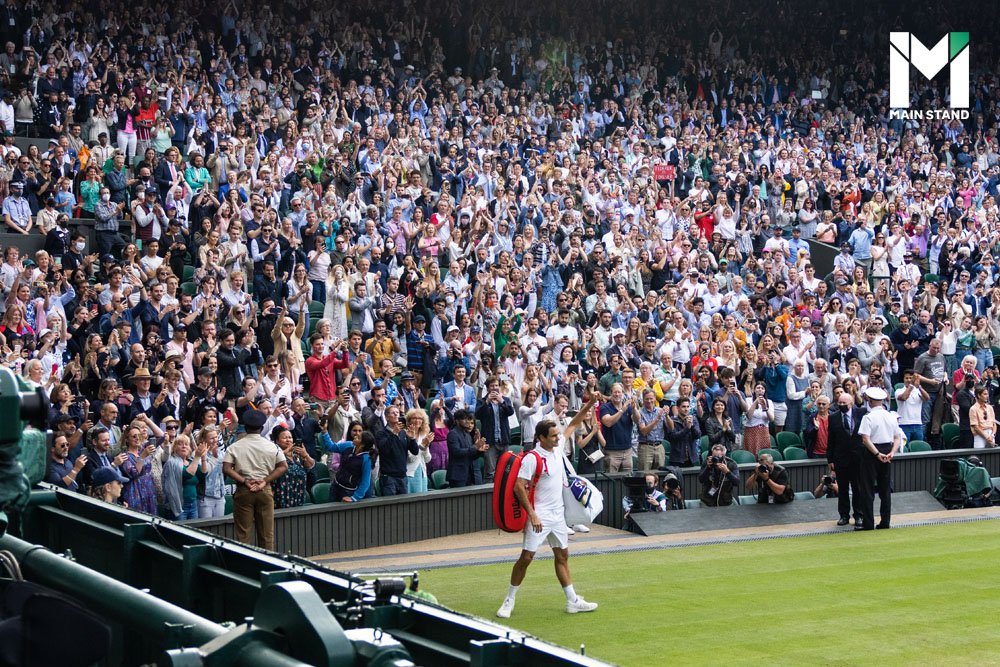 Grass courts are also considered the fastest in tennis. 
The court speed is quicker than most hard and clay courts, the ball bounces lower and since this surface enables quick points, players who have a strong serve, dynamic baseline game and reliable net game typically thrive on grass.
In Federer's case, although he has the ability to play every shot and more in the book, his aggressive game allows him to flourish on the grass greater than any other surface.
With one of the greatest serves of all time, potent groundstrokes, sharp footwork and robust net play, he is the most dominant player to ever step on a grass court.
Unfortunately for him, the grass season only lasts around a month, culminating at Wimbledon. 
However, there are some tournaments prior to Wimbledon, including Halle, where Federer has prevailed a record-breaking 10 times.
In 2001, Federer made a name for himself at Wimbledon by ending Pete Sampras' four-consecutive title run, beating the American in the fourth round of the championships.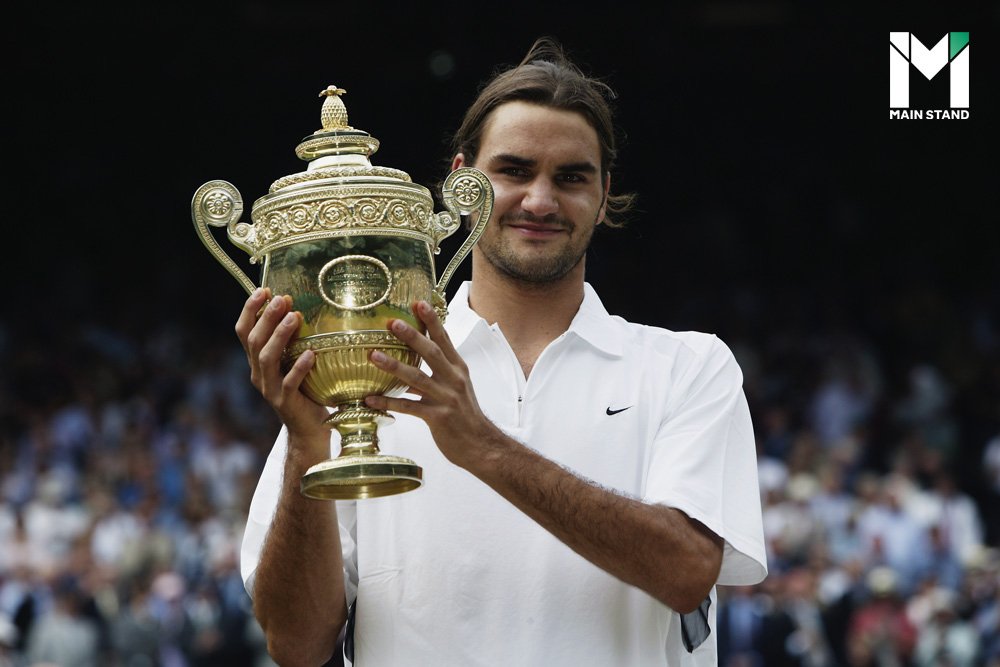 Shortly after, the Swiss won his first Wimbledon title in 2003, comprehensively beating "the next face of the sport" Andy Roddick in the semis, eventually going on to win the final in straight sets.
Federer would proceed to win five-straight Wimbledon titles, beating Roddick in two thrilling finals over the next couple of years. 
The Swiss Maestro would effortlessly dominate through the golden years of grass, ambushing Rafa Nadal in back-to-back finals in 2006 and 2007 respectively, displaying untouchable prowess on the surface.
During this period, Federer won 65-consecutive matches on grass, including five Wimbledon triumphs and three Halle victories. The closest record to that is Bjorn Borg's 20 consecutive victories.
After falling short in the historical 2008 Wimbledon final, Federer returned the following year to beat Roddick in a five set thriller and clinch his sixth Wimbledon title.
Federer managed to claim his seventh Wimbledon crown in 2012, beating Novak Djokovic and Andy Murray to the title. 
In 2017, at 35 years of age, he produced another clinic, winning the title without dropping a set. 
He became the oldest Wimbledon champion in the process and the only man to record over 100 wins at two seperate Grand Slam tournaments.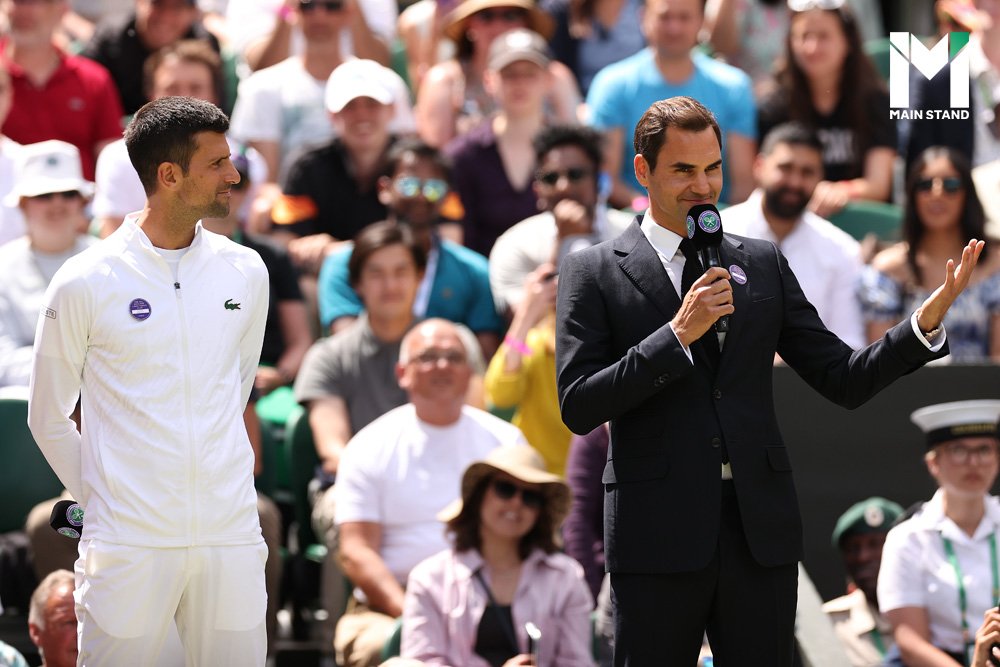 For Federer, it isn't just his remarkable records, it's his extraordinary elegance and ability to electrify crowds. 
Dubbed by Rolex as "the most feared yet revered", his dominance on grass supports his mantle of "King of Grass". 
The Maestro's unprecedented ability, elegant style and pure dominance, makes him arguably the game's number one talent and player at his peak.
However, what Roger has done across several different eras of the court, entertaining fans, graciously domineering past three generations of game and still being regarded as the greatest to ever do it on this surface, makes him the god of grass.
The Big Three dominance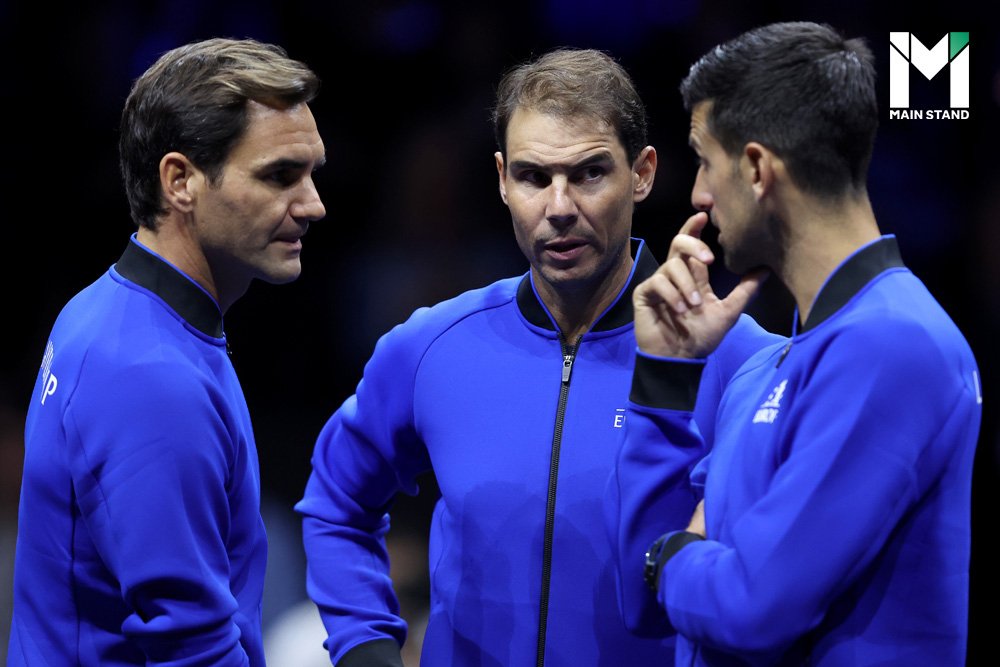 The "Big Three" have dominated the past three decades of tennis. 
Even though one of them has unanimously prevailed at a certain Grand Slam, all three have engraved themselves in each tournament's folklore and produced stellar masterclasses.
The distinctive elements of the rivalry, such as their dominant surface spread, make the debate all the more spectacular. 
Djokovic will be remembered as the King of Australia.
Nadal will be remembered as the King of Clay.
Federer will be remembered as the King of Grass.
Above all, these three champions will be remembered for their greatness and dominance.
Source
https://ausopen.com › event-stats
https://en.as.com/other_sports/why-do-they-play-on-a-grass-surface-at-wimbledon-n/
https://www.neilson.co.uk/beach/activities/tennis-holidays/types-of-tennis-court