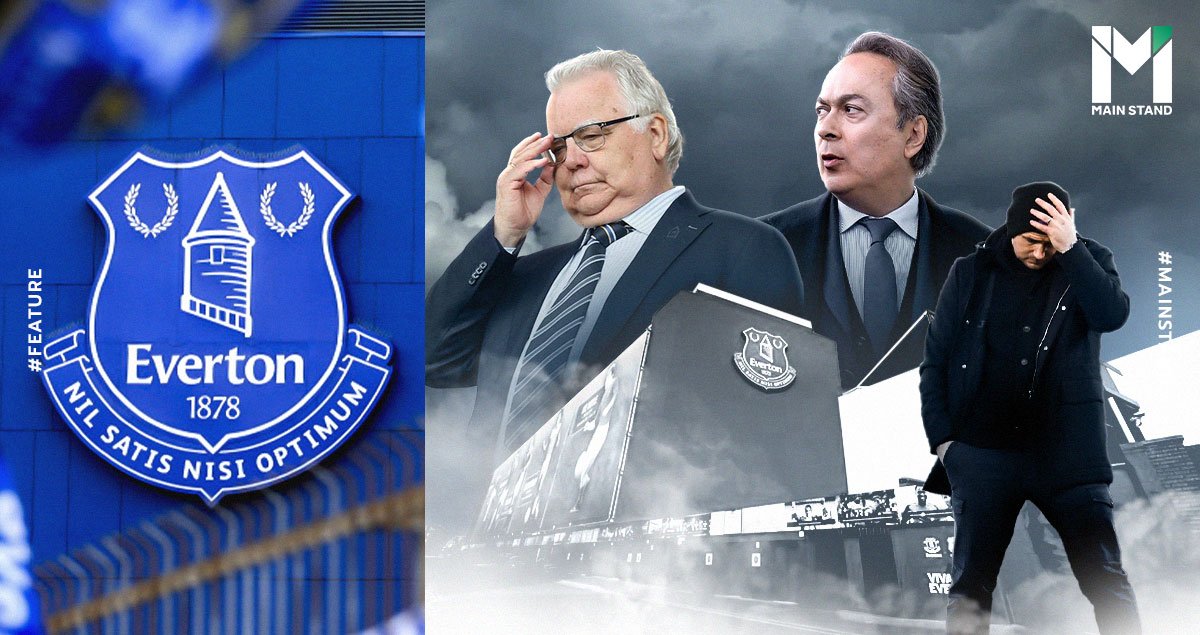 One of the Premier League's founding members, Everton, have endured the most unpalatable past few seasons.
The former European champions have gone from being regarded as the unanimous best of the rest, traditionally pushing the so called "Big Six" to becoming the most pathetically run club in the league.
Two seasons ago, record five-time Champions League winner Carlo Ancelotti was appointed as Everton manager. 
Fast forward to 2023, the Toffees sit tied bottom of the Premier League and have just sacked Frank Lampard.
The crisis in Merseyside has gone from underwhelming to untenable, with players, staff and board members all being questioned and even targeted by fans.
Hence here on Main Stand with Agastya Bajaj, we dissect who is to blame for Everton's egregious downward spiral.
Farhad away from expectations
Roberto Martinez, David Unsworth, Ronald Koeman, David Unsworth, Sam Allardyce, Marco Silva, Duncan Ferguson, Carlo Ancelotti, Rafa Benitez, Duncan Ferguson and Frank Lampard - no, that's not a shortlist of career mode signings. 
That is the entire list of Everton managerial stints since Farhad Moshiri's takeover in 2016.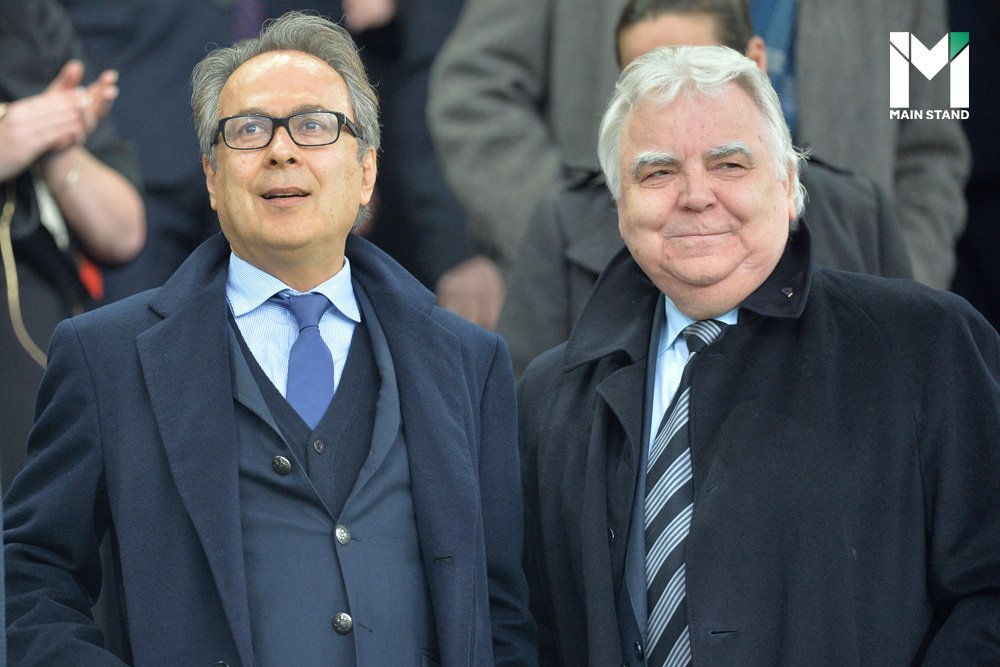 "I put my money where my mouth is, that's the most an owner can do," said Farhad Moshiri last week. 
It's encouraging to see a Premier League owner open up his chequebook, especially in the age of the Glazers and FSG, but Moshiri has taken it a step in the wrong direction, particularly in recent years. 
The Iranian owner can't be faulted for funding the club's new stadium and spending £731 million on signings, but he can certainly be held liable for the manner in which he's gone about his dealings. 
Sky Sports pundit and former Liverpool captain Jamie Carragher did exactly that, passionately ranting about Everton's mismanagement earlier this week on Monday Night Football.
 "I've said it before, Everton are the worst run club in the country", said Carragher.
"I don't say that as an ex-Liverpool player, I say that as an ex-Everton fan. Why does every Everton manager fail? 
"You've had a young up-and-coming English manager, a Champions League winner in Rafa Benitez, Marco Silva. But there's a big divide between Moshiri and (chairman) Bill Kenwright. What is the role of Kenwright in the football club?"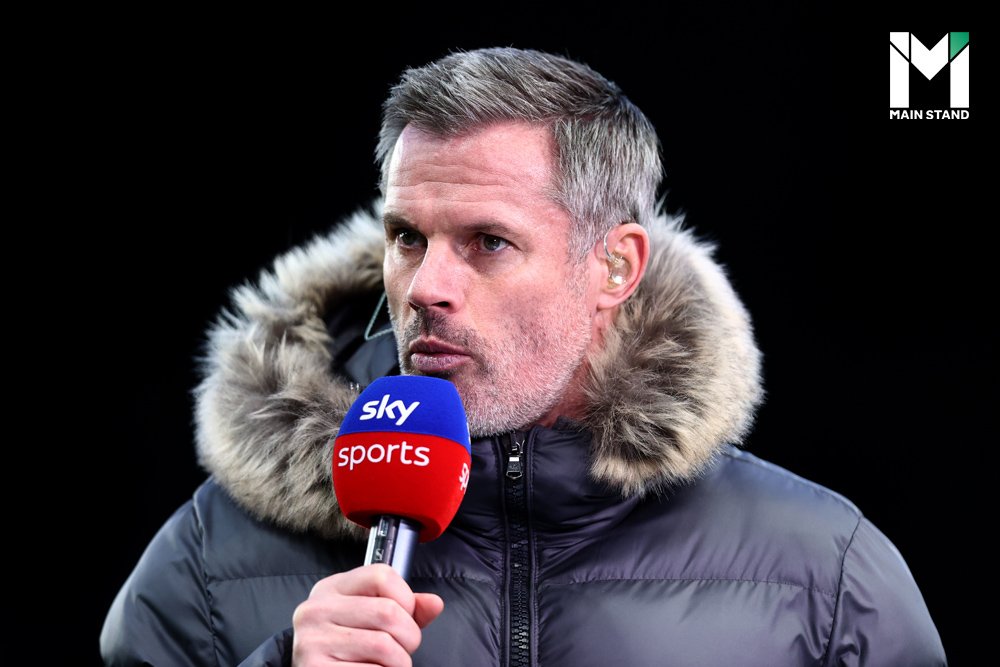 "Everton's board put out a statement before the Southampton game saying there had been threats, that's bang out of order, but the board should have been at the game. The statement they put out was bang out of order. It demonised the whole fanbase.
"You don't do that, especially in the city where we're from, in Liverpool you back your own, whether it's your family or your football club. 
"Those supporters kept them up last year. Until the board changes, I don't see the fans getting back on side. They haven't got a clue what direction they're going in."
Although Carragher may sound harsh, his views represent the majority of Evertonians, with the club becoming completely unrecognisable since Moshiri has stamped his authority on the entire club.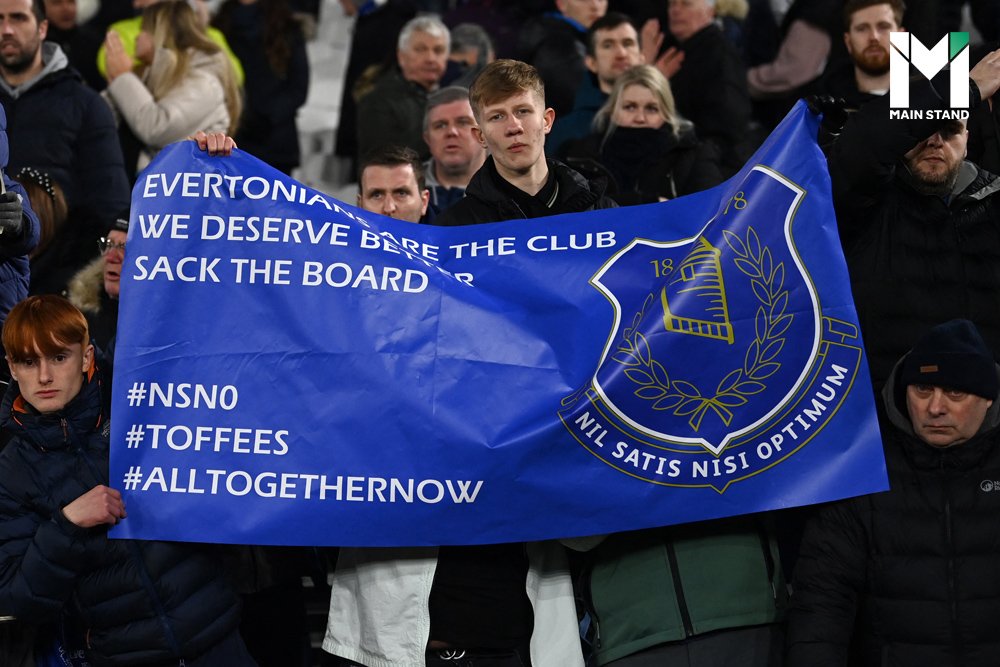 Chants and banners such as "A chairman who won't let go, an under-qualified CEO, "A football giant owned by a clown, all you'll achieve is taking us down," and "Everton were magic, Kenwright is tragic," have monopolised Goodison Park in recent fixtures.
Untenable mismanagement
After Carlo Ancelotti's departure at the end of the 2021 season, rather than cooperating with director of football Marcel Brands and adhering to the disposition of the fanbase, Moshiri took matters completely into his own hands. 
Against the will of the fanbase and his director of football, Moshiri appointed former Liverpool legend Rafa Benitez to succeed Ancelotti. 
As expected, Benitez's tenure was nothing short of a disaster. In fact, it is an understatement to say so.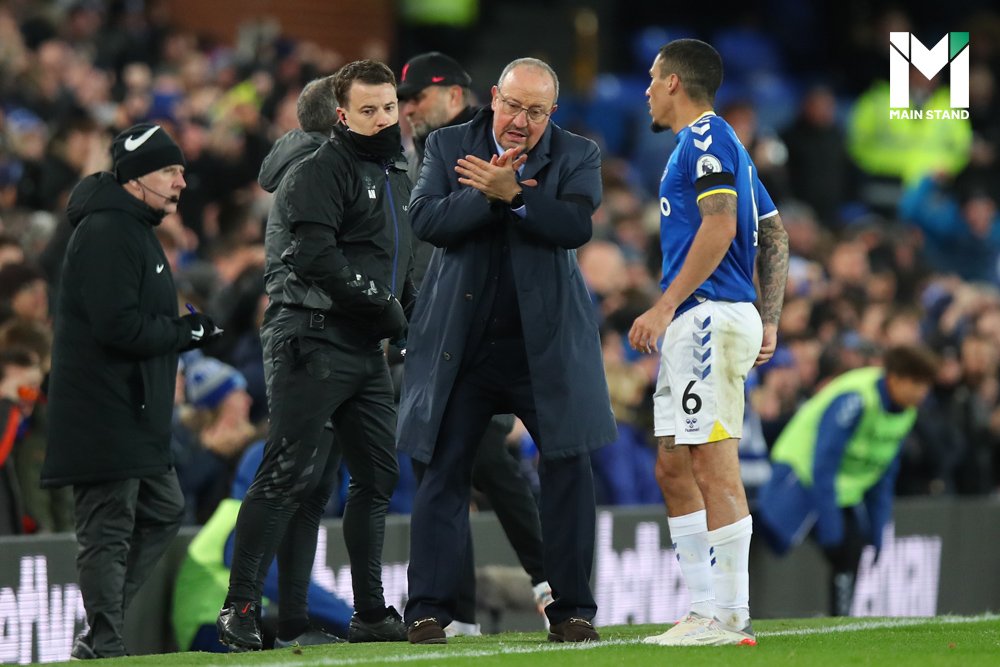 Regarded as one of the biggest failures in Premier League history, the Spaniard lasted a mere 250 days in charge, during which he still managed to entirely diminish harmony with supporters and redirect the team's fortunes downward.
As such, Liverpool fans hailed Benitez and chanted "mission accomplished" on the day of his sacking, signifying the embarrassment for Toffees supporters and the ownership model.
Of course, Benitez has to take some slack for his preposterous performance, but the appointment illustrated how out of touch Moshiri and Kenwright are with the fanbase. 
The appointment was also culpable for Brands' departure from the club, citing "a clear difference in vision and direction."
After three years in charge of recruitment and over $250 million spent, Brands' signings were a mixed bag, but they contained some precious sweets such as Richarlison and Lucas Digne. 
However, with Everton regularly changing managers and not having a clear philosophy to follow, Brands was effectively doing the job with two hands tied behind his back.
The lack of structure also dwindled relationships with some of Everton's few key players, with star left back Lucas Digne bemusingly frozen out and sold at the first available opportunity since Benitez's appointment.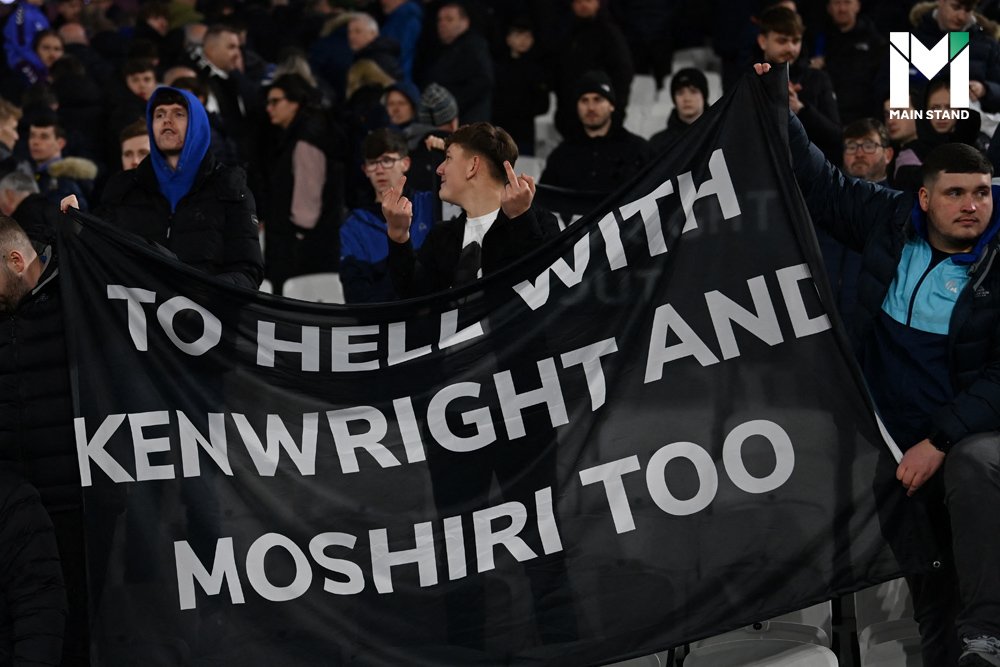 "What has happened and some things said about me in the last month has made me very sad," said Lucas Digne reflecting on his departure from the club.
"But I will not enter a war of words with anyone. The club don't deserve that, the fans don't deserve that, and to be honest, I don't feel I deserve that."
What's next?
With the side's dismal form, ranking 20th in the form table and winless since the World Cup, relegation is a real possibility. 
Although change is required at the top, Everton fans need to ensure the club can still walk before running under new stewardship.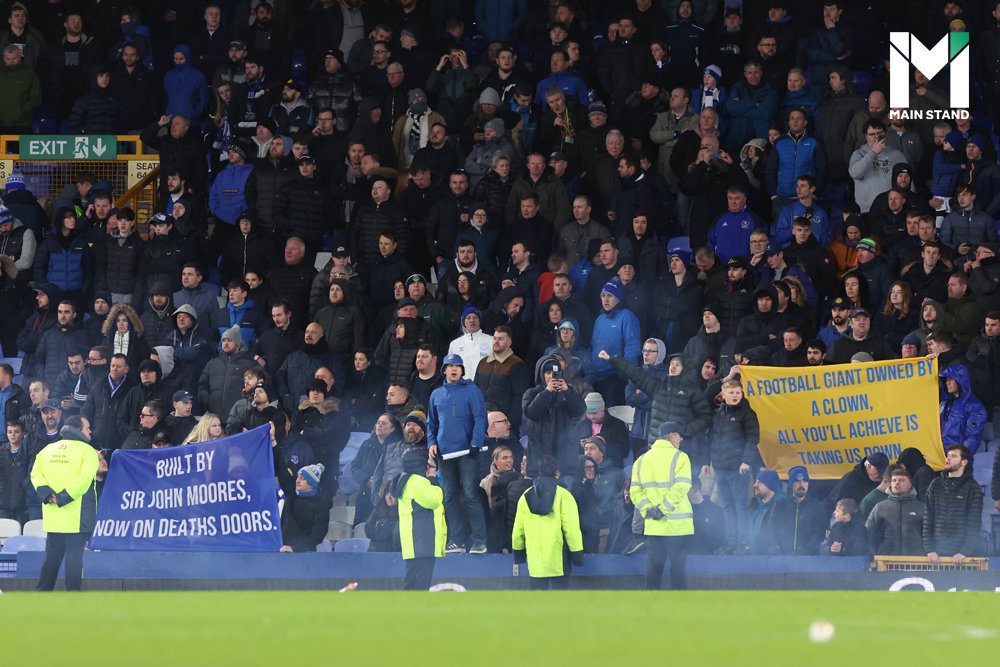 As such, fans have reached out to players and coaches in public spaces, expressing their support, encouragement and urging the side on. 
Fans have uttered remarks such as, "All we want is passion. Show us a bit of passion. Start speaking up, lad, show them you're the man." 
Prior to Lampard's final match in charge, travelling fans told the manager "We are behind you," suggesting that even if Lampard wasn't suitable for the job, the problems stem deeper than that.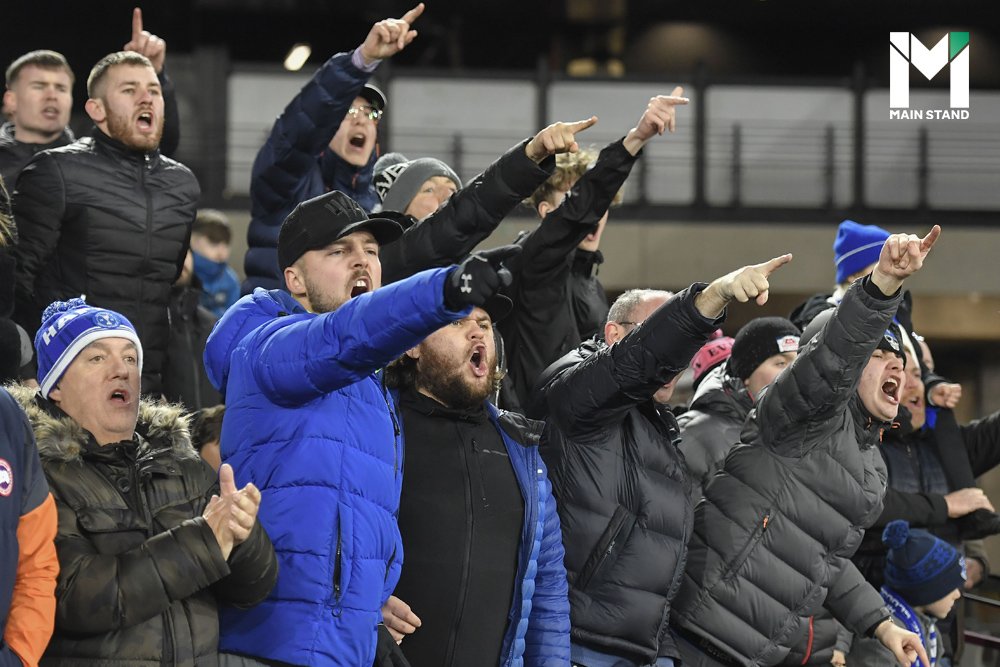 The players and previous managers do also have to take accountability for Everton's struggles, simply not being good enough. 
However, with the club bereft of winning structure and direction, these woes have plagued the club from achieving any real success. 
Moshiri making statements such as "All the managers have been driven by the fans, not by me, initially," will not help his cause.
Everton fans continue to peacefully protest, making their voices heard and demanding change to reignite their fire.
Sources
https://www.dailymail.co.uk/sport/football/article-11667701/Jamie-Carragher-says-Everton-right-decision-sacking-Frank-Lampard.html
https://www.theguardian.com/football/2023/jan/02/everton-fans-plan-fresh-protests-over-incompetent-management-of-club