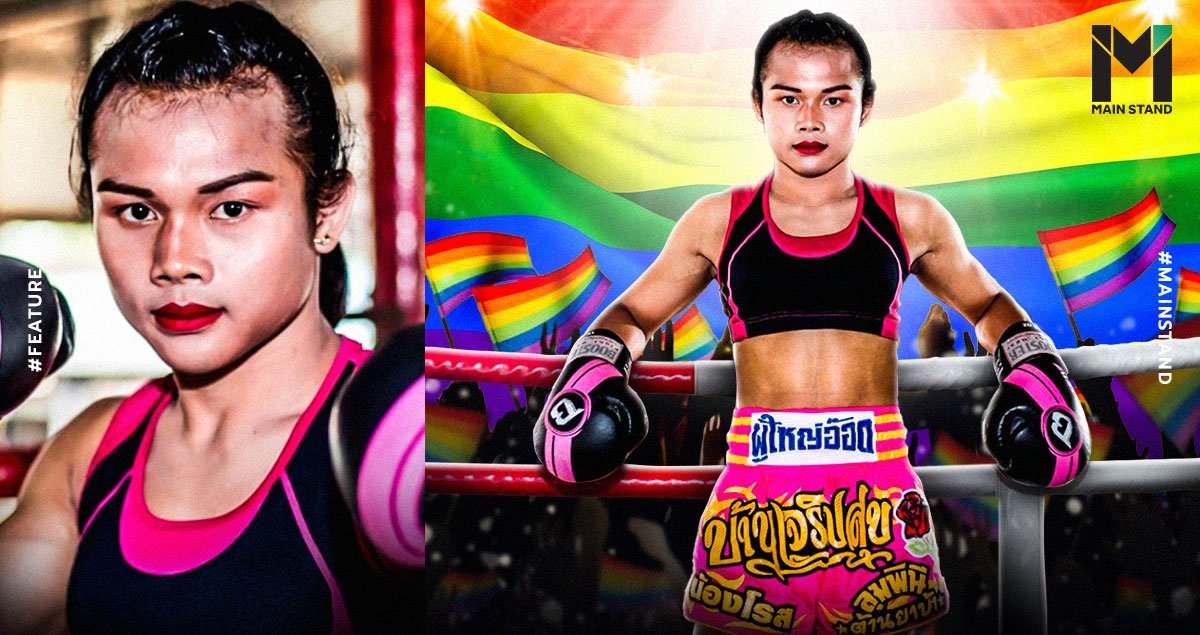 "Why waste a punch on a Katoey? It's a disgrace, whether you win or lose." These words have been etched on Somros Polcharoen's memory since the first time she stepped into the ring at Rajadamnern Stadium.
Eight years later, at Pierre de Coubertin Stadium in Paris, France, the jeers of three thousand spectators would drown out all the bygone insults. After the ring announcer declared that Nong Rose Ban Charoensuk (her ring name at the time) had lost to French opponent Akram Hamidi, the crowd started to boo. Their objection was itself a victory for this trailblazing trans athlete.
Known in the Muay Thai circle as "Nong Rose," her life was anything but rosy. Apart from having to fight for the prize money inside the ring just, like other professional boxers, she also had to fight against transphobia and discrimination outside of it. Rather than taking her skills and abilities into account, critics often treat her as the butt of a joke and discredit her career.
"Don't be a Katoey"
"I knew I was trans even before I started boxing. That's why my uncle, who's an ex-boxer, trained me since I was in kindergarten. He didn't want me to become a Katoey," Nong Rose said, explaining how it all started.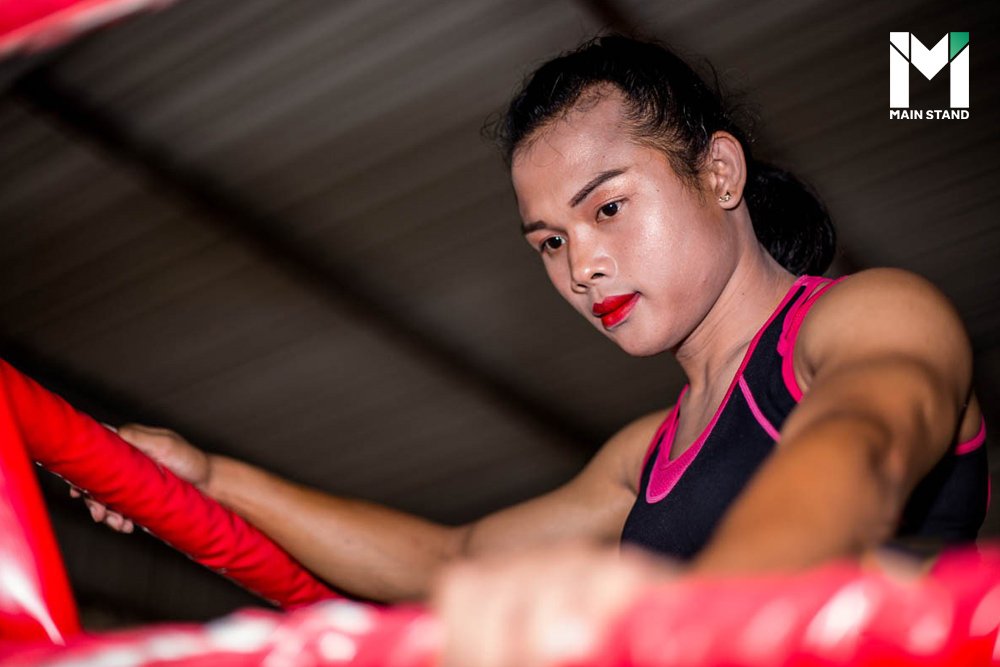 Born Somros Polcharoen in Phimai, Nakhon Ratchasima, she grew up living the life of a typical Thai boy. She began learning Muay Thai at a very young age in order to fight and earn money at temple fairs. The only difference is that her uncle rushed her into the sport, in the hope that fighting would teach her to become a 'real man.' Taking the role of her coach, he would book fights and local venues and push her to attend.
"I was a very shy kid. I didn't really talk to anyone in elementary school and so I was teased and bullied a lot. They'd call me 'fag' and so on. I often hung out with boys my age. I hadn't come out of the closet then. So, I was trying to fit in whenever I was at the gym, male and straight."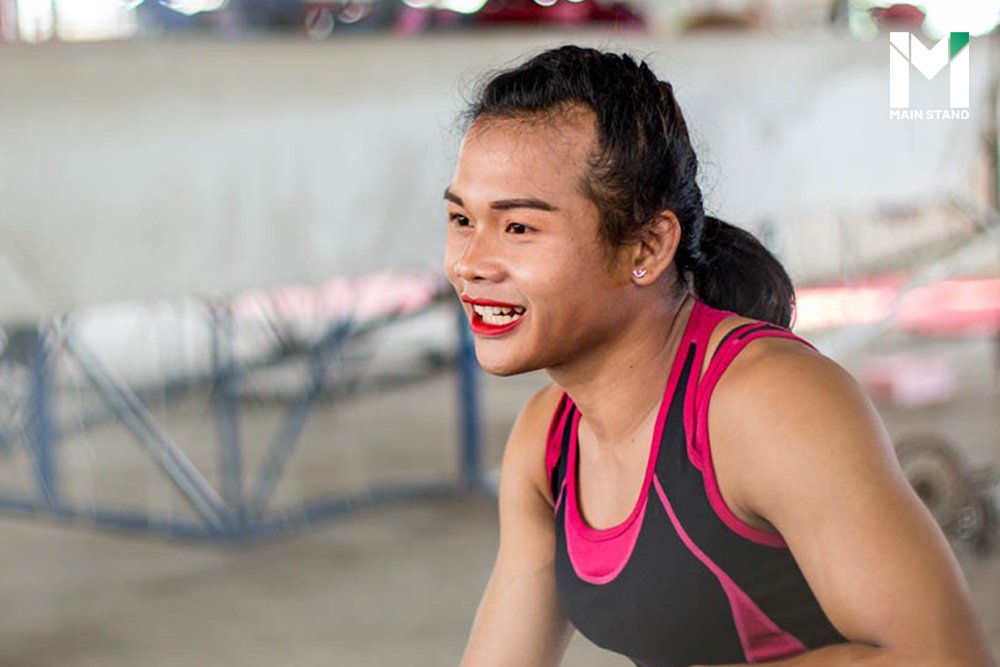 "Actually, my uncle had been pushing me to compete many times, but I was too nervous to fight in front of an audience. So, for the first two years, it was all training, because I'd pull out of an event before the fight. Also, my parents were afraid that I'd get hurt." 
But growing up boxing every day, Nong Rose would eventually fall in love with the sport and, one day, she decided to sign up for her first match, with 500 baht on the line as prize money.
"My family is not that poor, really. There were four of us. I have one older sister, one older brother, who also boxed, and another younger sibling. My father had to work in the southern region and came home only once a month. My mother took whatever jobs she could find around the village. I didn't really want to ask my parents for money, so I decided to enter a fight. It wasn't that difficult, actually. A bout would only take 20 minutes."
"At first I didn't tell my mother I was going to fight. It was at a temple fair. I was eight years old. I remember having stage fright after getting up. Nevertheless, I ended up winning. When my mother learned that I'd won my first fight, she was very supportive. After that, she came to every one of my matches."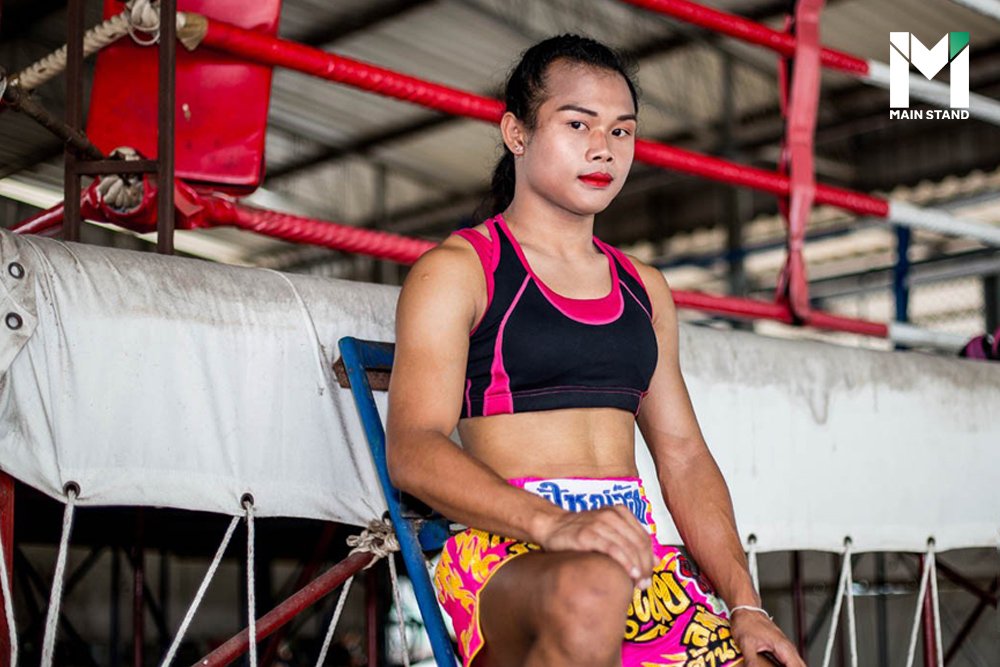 After finishing primary education, she changed her ring name to "Rot Duan S.Somchai Farm" and began touring from province to province, until one day she received an opportunity that was every Thai boxer's dream: to fight at Rajadamnern Stadium.
But, as she'd later learn, what happened in the arena would come back to haunt her. While she was sitting down between rounds, someone in the crowd called her…
A disgrace
"I didn't really like the atmosphere there. I'd never fought in front of so many people before. I was also exhausted from losing too much weight for the bout. So, I ended up losing my first match at Rajadamnern," Nong Rose recalled.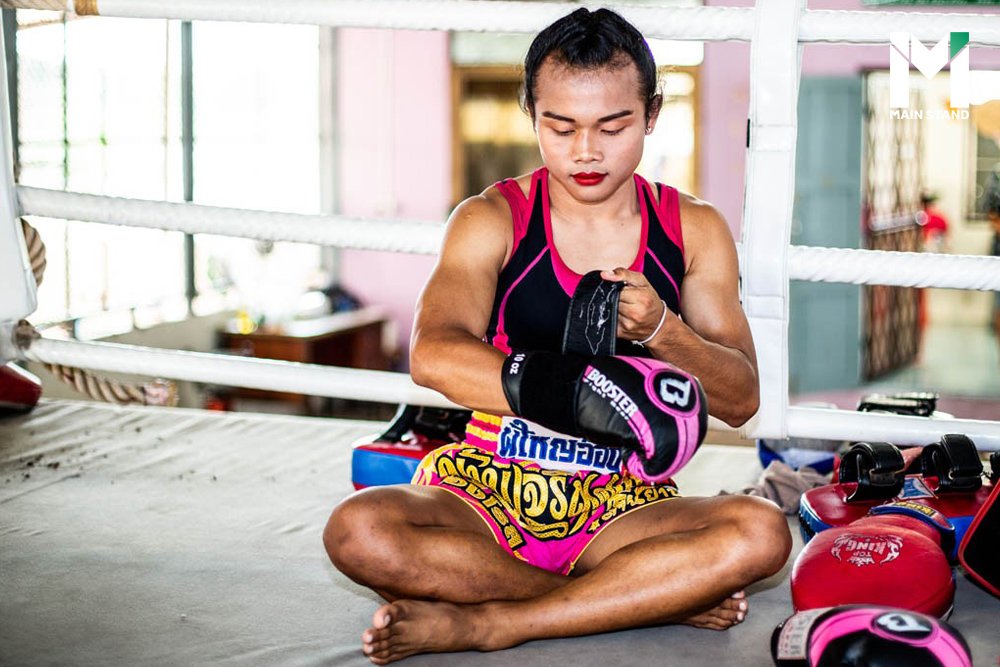 "While I was sitting in my corner, somebody yelled out, 'Why waste a punch on a Katoey? It's a disgrace whether you win or lose.' I think he was trying to throw me off because, after that fight, I never went back to Rajadamnern and instead fought only in the countryside."
Muay Thai has always been a male-dominated sport. At 13, Somros was a constant subject of homophobic slurs due to her supposedly effeminate mannerisms.
Somros had lived a life of a stranger for almost 13 years until she decided to face her fears and come out publicly. From the age of 14, despite not knowing how any of her fans would react, wearing makeup had become her tool for survival.
"I was trying to present myself as a male then. I'd only put makeup on when I was at home, wrapping towels around my head to look girly. I never did that stuff when I went to school."
"But at fourteen, when I was starting my Mathayom-2 year, I decided to wear makeup, both at school and the gym. It was mainly to cover up the scars I had from a road accident, which broke my arms, legs, and shoulders, and disfigured my face."
"The first time I wore makeup for a fight was in Phimai. Most people already knew me because I was a regular fighter there. Of course, they were really surprised that I was wearing makeup. Me? I was a total wreck, even more than usual."
"At first I was really concerned about getting scars. But then I realized that I'd never gotten one in a fight, so my confidence grew. To be honest, I no longer think much about my face when I step into the ring. My sole focus is to win the fight."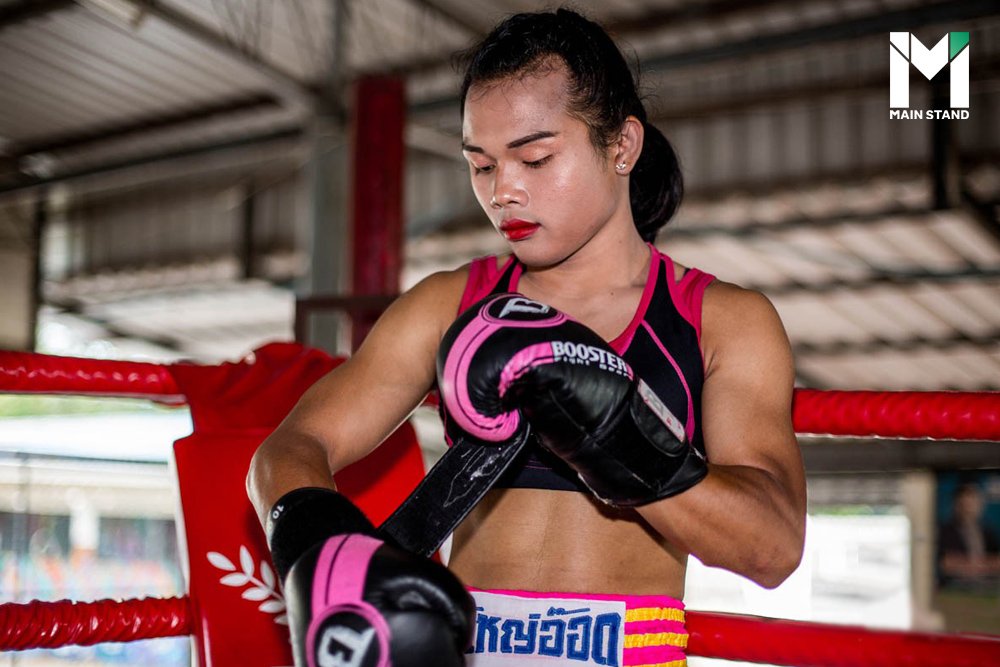 At 15, Somros Polcharoen had become a skilled Muay Thai fighter and thus made her television debut at Assawindam Stadium Championship in a 104–105lb weight class. The pay was higher, too, at 10,000 baht per bout.
Two years later, she signed with a new gym, and so her ring name was changed to "Nong Rose Ban Charoensuk." The change was timely, as she had decided to come out.
After finishing secondary education at Phimai Wittaya School, Nong Rose decided to become a full-time professional Muay Thai fighter. But she had her eyes on this one goal: to return to Rajadamnern and erase that awful memory that took place there years earlier, by winning.
Rajadamnern
"When I was old enough, I wanted to go back to Rajadamnern Stadium. It was a very prestigious venue in Thailand, and most of the boxers do not get a chance to fight there unless they have a connection."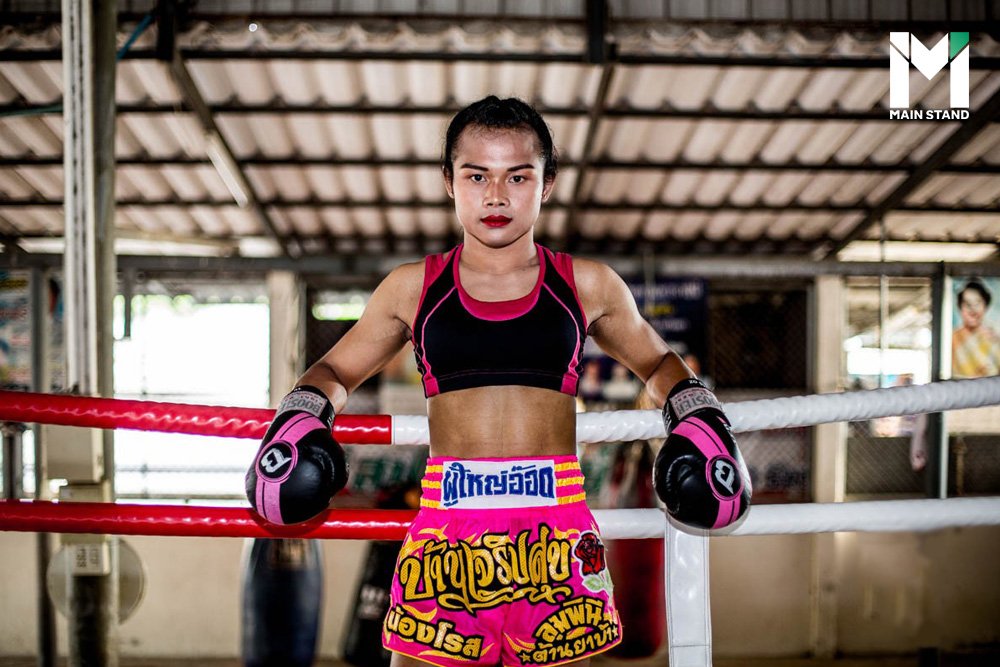 And so Nong Rose began her path toward her first victory at Rajadamnern. She had been following strict training regimens, gaining as much physical advantage as possible from training to make up for her short stature, which stood at only 160 cm. To compensate for her weakness, Nong Rose had adopted a more aggressive fighting style where she would fearlessly charge at her male counterpart, gunning for them with a full swing.
And that's how she had climbed up the ladder to bigger tournaments, including "Yod Muay Thai Rath." And in 2017, Nong Rose was eventually scheduled for OneSongchai against veteran Sueayai Chor.Hapayak, marking her return to Rajadamnern Stadium.
"For the second time around, I had to wait 5–6 months for the organizer's approval, so during that time, I was very determined to train even harder. I was doing everything my trainer told me to. Instead of doing 2–3 rounds of target kicking, I did five. I knew I was shorter than other boxers, and so I really needed to fight close-range, or else I was going to be vulnerable."
"I remembered it was very loud inside the stadium. There were a lot of people watching, and I was very nervous, as usual. But the crowd didn't boo me. They actually liked that I was the way I was (in a pink sports bra and lipstick)."
"That day I was facing Sueayai in a 113lb fight. I was intent on winning for my supporters, so they'd get their money's worth (smile). And I won! That fight was my breakthrough."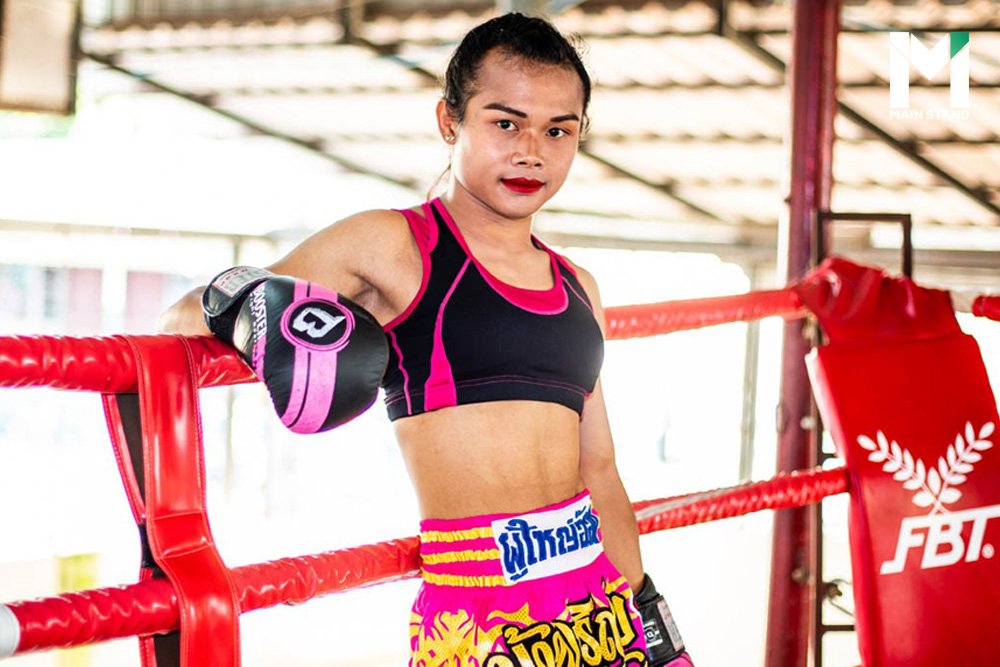 Nong Rose was throwing an elbow combo at her big-name opponent with non-stop punching and kicking, until Sueayai Chor.Hapayak went down and the referee began to count. She finally got her first win at Rajadamnern, together with prize money of 950,000 baht.
For the following year, she fought several bouts at Rajadamnern and scored victories against well-known fighters such as Preawpak Sor Jor Vichit Padreaw, propelling her rise to stardom. Her biggest achievement was winning the S-One Thailand championship in the 115lb class.
Nong Rose was no longer a backwood boxer. As her public recognition grew, so were the hateful messages online. While many fans expressed their support for Nong Rose on social media, many were trying to take her down a notch with insults.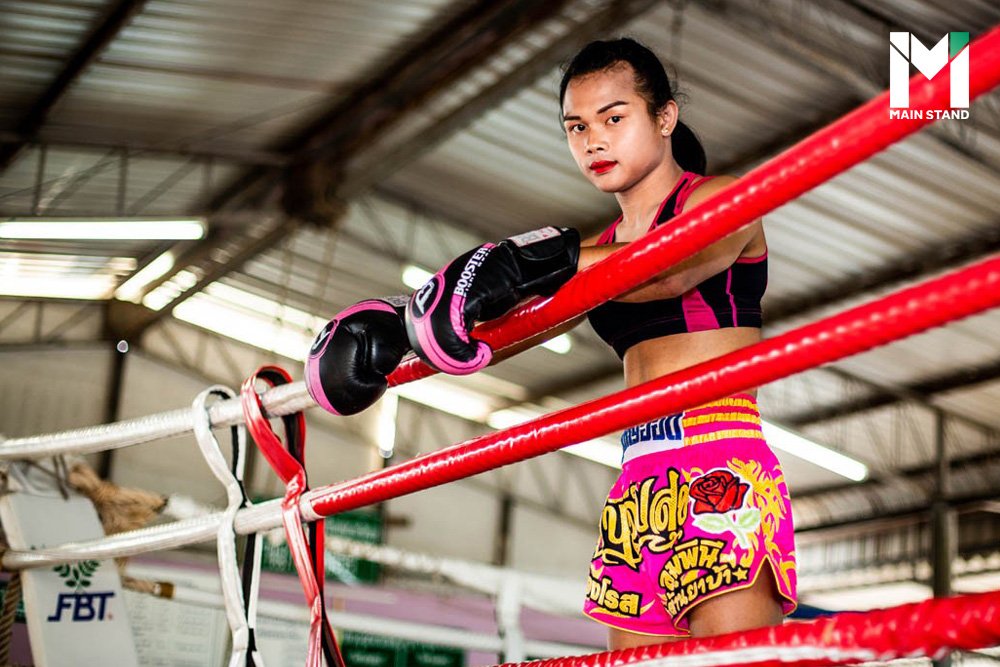 "In this sport, I have been insulted countless times. Most of the fans and my peers were respectful, though. At most, they'd tease me for being girly. But the worst insult I've ever received was on Facebook. Someone commented that seeing a Katoey like me box was humiliating, and suggested that I find another career."
"I'd thought of giving them a piece of my mind, but I was afraid to do so (smile). So, I tried not to read them in the first place, though from time to time my friends would take a screenshot at the mean comments and send them to me."
"Personally, I don't take it too seriously. I've never paid haters any mind. I don't cry over insults, whether they are said to my face or behind my back. I've been this way since I was a child. Everybody has opinions. I cannot prevent them from saying what they want."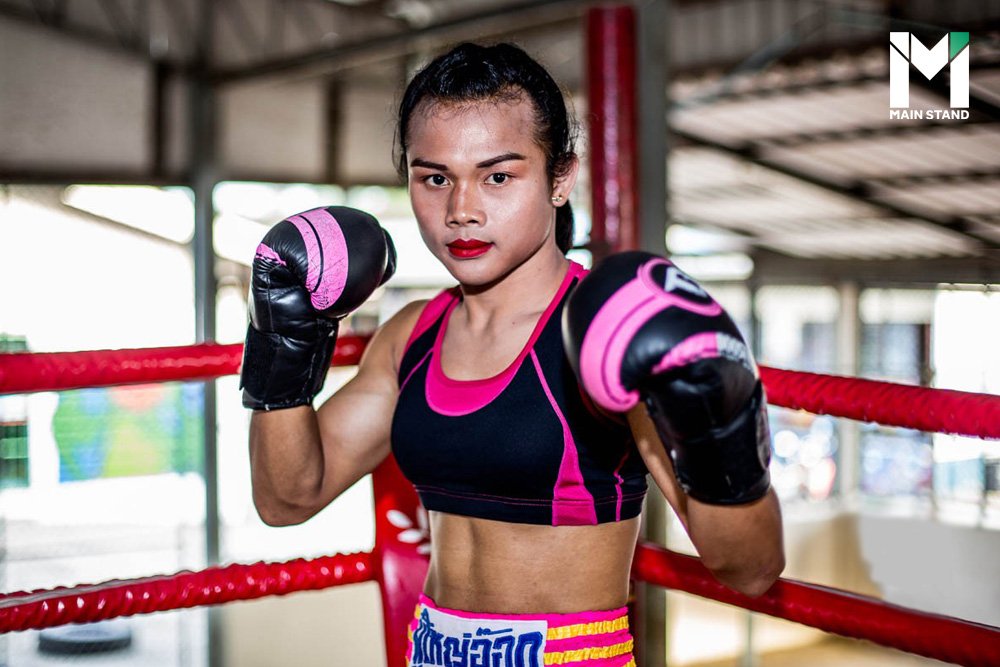 "My only concern is how to win a fight. Because nobody can take that away from me," 
Paris
France is definitely on many people's bucket lists as a must-visit place for its history and culture.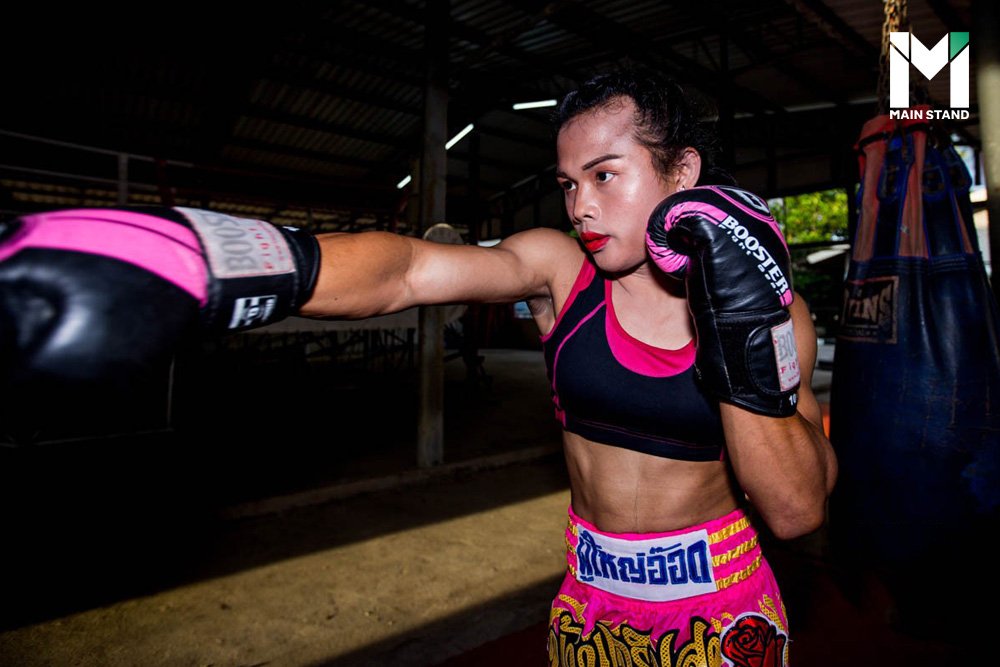 However, that facade of beauty can sometimes hide tension and conflict. Take French transgender people, for instance, and their fight for equality and acceptance in their own country.
"I was really happy to see Nong Rose fight in France. She's had the guts to do what many trans people in France were afraid of. With all the attention Nong Rose received from the press, I'm hoping that her story would bring about much-needed changes in the world, as prove that trans people deserve a place in society," Christine Rougemont, a trans rights activist, said in an interview with BBC, referring to Nong Rose's debut fight in her native country.
In the past, Rougemont had trained professionally in Muay Thai, but she was barred from competing in any official capacity because of her gender. Therefore, it's no surprise how excited she was after learning that Somros "Nong Rose" Polcharoen was coming to France.
"I've dreamed of fighting overseas since I was a kid. I've had my passport for a long time, but there was no opportunity for me to use it until Khun Oh (Pariyakorn Ratanasuban) called me and said I was going to France and represent Thailand," Nong Rose said.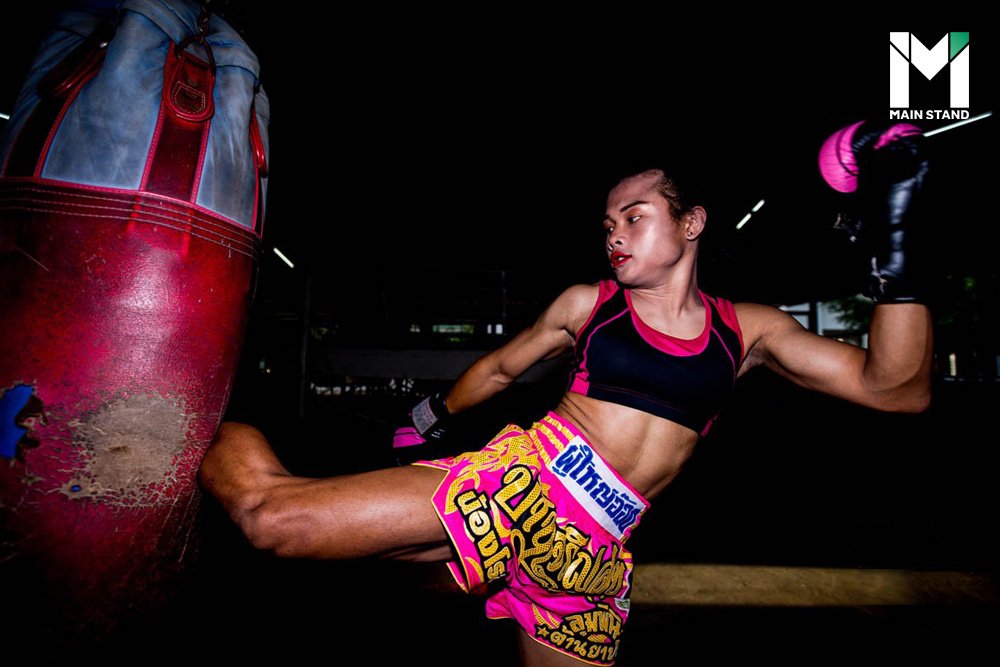 "It was wintertime when I arrived. My body was shaking all over. The weather was very different from Thailand. I spent five days in France. Actually, on my first day, I was nearly robbed. As I was riding in a car, someone knocked on our window, but the driver did not respond because he knew that that man was a thief. I was so terrified because a car in front of us had rolled down its window and got robbed, in plain sight. So, throughout my trip, I was extremely careful."
The story of "Nong Rose" and her bout in France had generated much hype, from the foreign press such as BBC, Reuters, ABC News, Xinhua, AFP, and local media alike. As the first openly trans woman from Thailand to ever fight in France, Nong Rose was booked for countless interviews before and after the fight.
Naturally, the fight between a trans boxer from Thailand against a 19-year-old homegrown favorite Akram Hamidi was going to be a historic one. Not only did it attract many home-based fans, but also a number of trans activists, who have been demanding their rights and equality in France.
"Many people were there to watch the fight. The crowd was even larger than Rajadamnern's, and my fight was the highlight. Unfortunately, I lost that fight because the rules they used were different from what I was used to. In France, kicks aren't counted as strikes, only punches are. I didn't know about the rules then. And so when my opponent was declared a winner, the spectators started booing because they did not agree with the decision."
"Their boos meant a lot to me. It meant that I was able to earn recognition and acceptance, even though I was a foreigner and also trans. Throughout this trip, I received so much warmth from the people there. They gave me a wai. Some of them honked at me from a parking lot, calling my name, "Nong Rose, Nong Rose." Some asked me for a selfie. I was like a celebrity."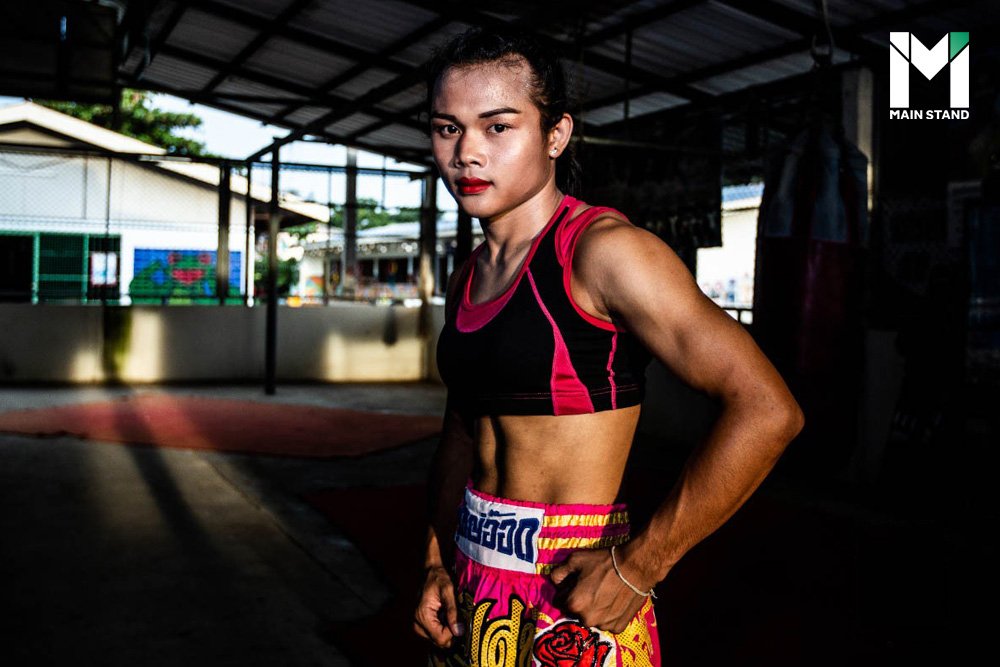 "A lot of the foreign press wanted to interview me. They asked me about my life and how I got into boxing. They were trying to depict me as a hero for transgender people."
Although her life was not paved with roses, "Nong Rose" was able to overcome all obstacles in a male-dominated sport such as Muay Thai because of her determination to keep fighting while staying true to who she is.
"I didn't really care whether people will think less of me because I'm Katoey. Actually, their words have kept me on my toes. If I'm not mentally and physically ready and lose in a fight, that would be a real embarrassment."
"The slurs no longer worked on me. Everybody has different abilities and talents, regardless of gender. I'm good at Muay Thai, and I want to simply be the best. That's how I've been able to support my family. That's how I want to live my life."
"It's just like any line of work, I suppose. Gender doesn't define your success, only the work you put in, and for me, I just want to do the best that I can," Somros Polcharoen triumphantly concluded.