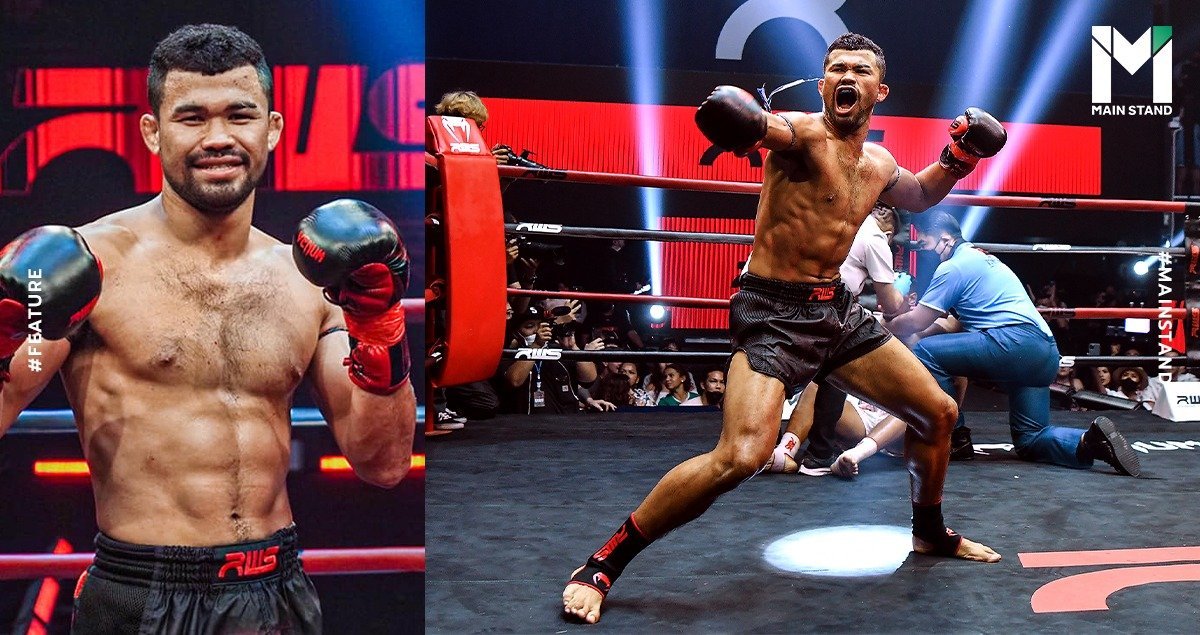 Because of the possibility of significant income, the art of being a Youtuber has become one of the most popular side jobs now. As a result, many people have become famous because of their YouTube channel.
With that, Coach Nay Sibmuen, the Omnoi stadium's welterweight champion and Rajadamnern's super welterweight champion, became famous via his YouTube channel, with 1.59 million subscribers after his retirement.
However, what made Sibmuen return to professional Muay Thai after four years, lowering his weight to fight in a different division? 
Main Stand will take you through his life journey.
Passion for Muay Thai
Sibmuen Sitchefboontham, a welterweight champion, was born in Dan Khun Thot district, Nakhon Ratchasima Province. He is the youngest in the family, with one older sister.
"I have loved fighting since I was a kid, just like any boy. Fighting is in my nature. But I have never bullied anyone, it was mostly self-defense, or I was protecting my friends (when bullied)," said Coach Nay.
"I started boxing when I was 13. My old man loved boxing and dreamed of having a son who's a boxer. So he brought me to train with my uncle, Kongfah Luktapfah.
"I just wanted to indulge my father, plus I wanted to do (Muay Thai). (And) so I started training," he added.
"After only three days of practice, I fought my first match at Dan Khun Thot's Songkran Festival. I went by the name of Sanchai, Son of B.K.C, abbreviated Ban Krachao, my hometown.
"My first match was with Sibmuen Tor.Kroakluek. That day I got knocked out from his kick in Round 3," Sibmuen recalled 
"He was stronger than me and had already fought around 14 or 15 matches by that time. (So) how could I beat him?"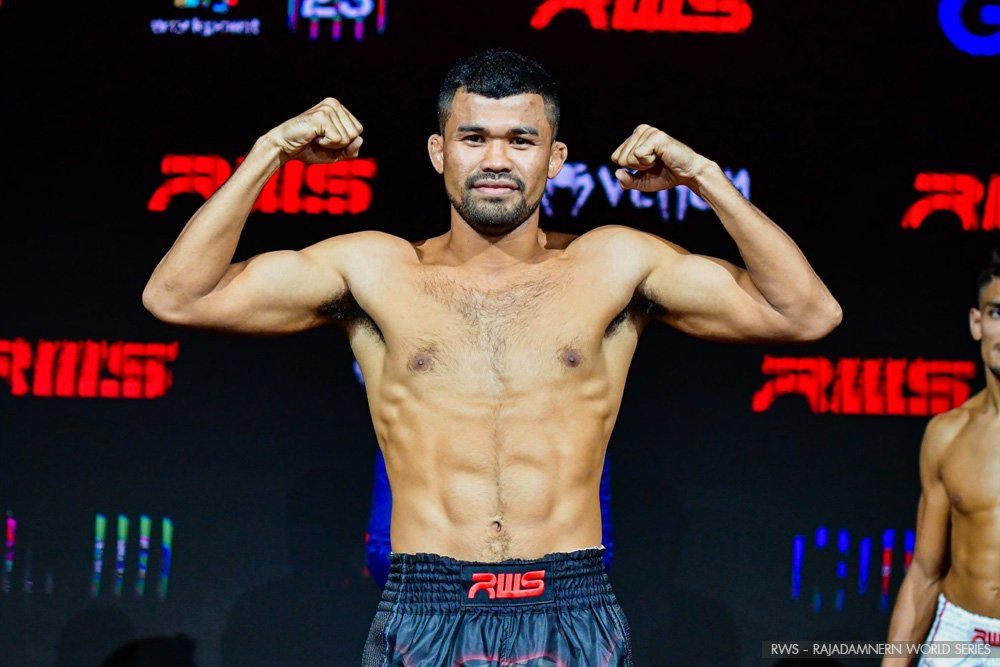 Sibmuen's first fight was not so great but sparked the flame in him to box professionally. 
Although his opponent had more experience, he still enjoyed the fight anyway.
"After the fight, they paid me 300 baht. I was not sad at all. Surprisingly, I even enjoyed it. I told myself that because I can't fight now, I have to practice harder," said Sibmuen.
"After my first loss, I fought another six rounds, yet I still lost. (Finally), I tasted my first victory in my eighth match."
Name of the champion
Sibmuen fought in hundreds of local matches until Kongfah Luktapfah thought his nephew was ready to fight in Bangkok. 
"When I fought in the countryside, I went by many aliases like Arwut Lhek (lit. metal weapon). Then I changed from San (lit. hundred billion) to Sibmuen around my eightieth fight because my father's name is Muen and having his name is like my personal blessing," he said, explaining his stage name.
"I fought in local matches a lot, (I) can't remember how many, but it's more than a hundred.
"I changed my stage names while fighting to gather more experience," Sibmuen recalled.
"Then my uncle invited me to fight in Bangkok, and I thought it was a good opportunity. So early on, the first place I started practice in Bangkok was at Sor. Takrudtong, and I fought in the Petchyindee Tournament four times, but then there weren't any fights afterwards."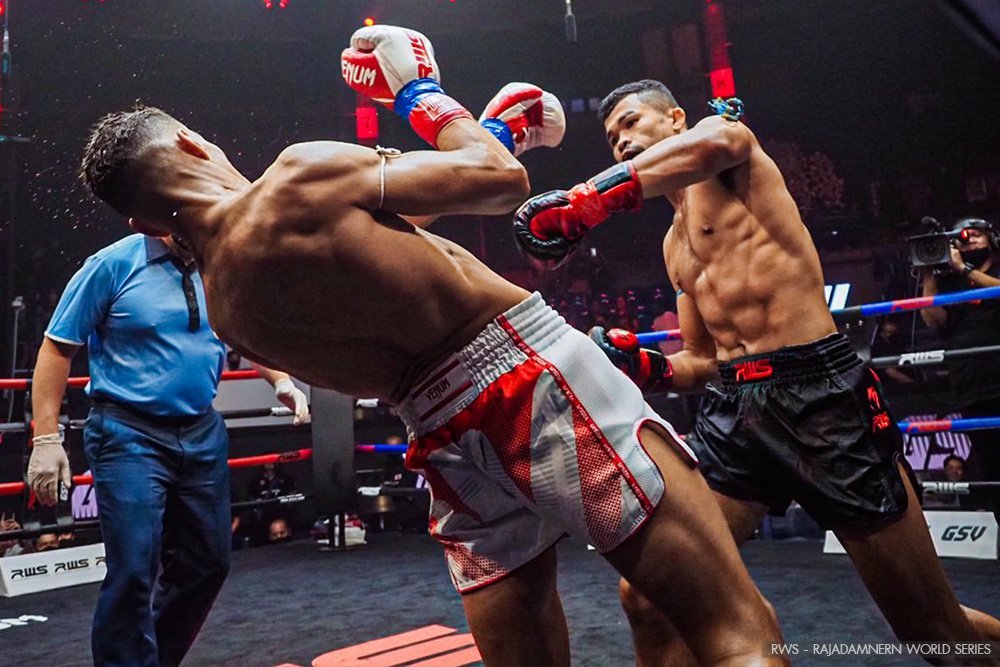 Sibmuen's life in the big city was not easy. After a while, he started thinking about going back to fight in local matches when he didn't have any matches. Only after that did he move under the principality of Angmor-Chaicharoen Rueruamwong
"I thought I could burn out if I haven't fought for too long, so I went back to fight in local matches for around a year.
"Then someone contacted me to fight in Angmor's All-Star Choocharoen Tournament. Back then, I had fought with many good fighters like Sakmongkol Sor.Sommai, Faipa Sor.Damrongrit, Pol-aek Mor.Phuwana, Petchboonchoo Rongreankeelakorat, and Rafi Singpatong.
"I fought in Angmor's tournament until I became successful and got two Muay Thai Belts from two divisions in two tournaments. The first belt was from Siam Omnoi's welterweight fight where I beat Wahid Saengmorakot, an Iranian boxer," Sibmuen said.
"Another belt was from Rajadamnern's super welterweight where I fought Takuya Imamura, the Japanese former champion before I lost to Intrachai Sor Hapayak."
Coming out of retirement back to the ring
After many fights, Sibmuen grew tired of life in the ring. Eventually, he quit at a young age and didn't think he would fight again.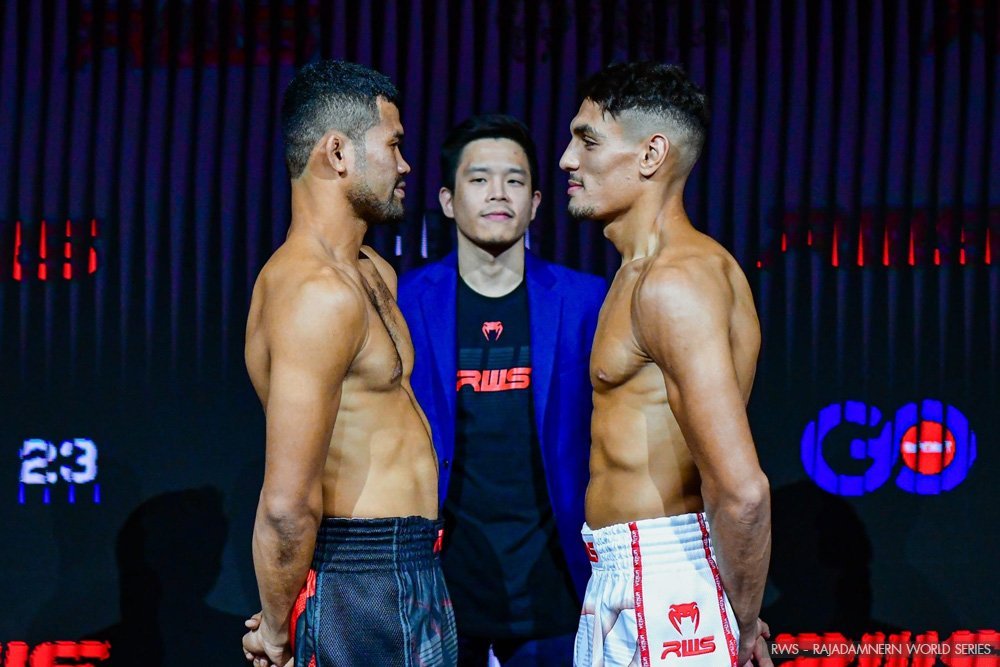 "Because I kept winning, not many tournaments wanted me to fight in their programs because my opponents didn't want to fight with me," he explained on his pivotal point.
"So I decided to quit and get a construction job with my pop. But after some time, my dad wanted me to go back to boxing." he said 
"So I boxed in Cambodia to get some money and won four times consecutively, but with Muay Thai, I quit altogether."
Then came his turning point after he coached My Mate Nate or Nathan Bartling, a famous American Youtuber, for his fight in IDOL FIGHT 2.
"Nate asked me to coach him for IDOL FIGHT 2, and so I did," he said. 
"When I was there to teach him, I had the chance to see what he was doing. I started to do it because I wanted to start a YouTube channel too, and Nate was quite famous. (And so) I first shot it (my video) with just my iPhone 6."
"It was well received, fifty thousand subscribers in just two days," said Sibmuen.
"So I kept doing it until Nate asked me whether I wanted to do it seriously. Then he taught me everything from the camera to editing.
"Now I have around 1.5 million subscribers. I've never thought people would follow me this much because at first," he revealed.
"I started doing it just for fun. But I haven't forgotten about boxing at all."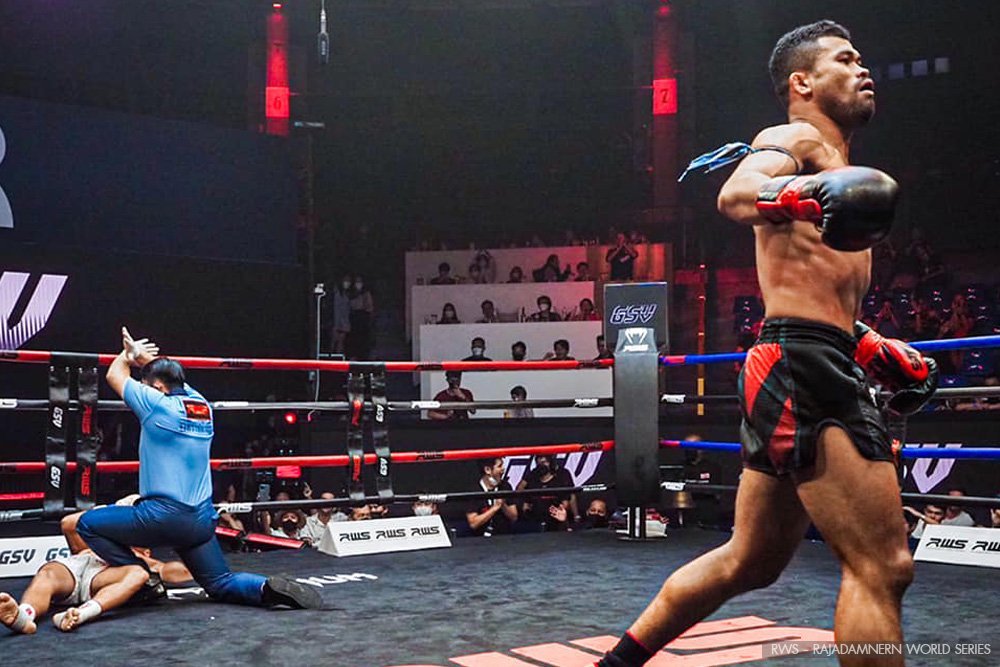 Muay Thai has always been a part of his life. Even after his retirement, he makes YouTube videos about martial arts. Many of his contents in the 'Coach Nay Sibmuen' channel are still about Muay Thai and exercising. 
With the newfound popularity, he also had a chance to fight again in the IDOL FIGHT with Jos Mendonca, better known as Josie Ingram Gym, a former foreign champion from Rajadamnern Stadium.
After that match, Rajadamnern World Series contacted Sibmuen to ask whether he wanted to fight in the professional Muay Thai match again after his four years of retirement.
"Their staff contacted me and said that they wanted me in this tournament," he revealed 
"They gave me a choice to choose a division, so I chose 147 pounds instead of 154 pounds because I have already seen it all in that division.
"Another thing was that I wanted to get lean in the first place, and I thought it was a challenge for me, so I decided to fight in this division because from what I've seen, fighters in this division are quite something."
Sibmuen returned to fight in Rajadamnern Stadium again for the first time in four years against Mohammed Cheboub. In this fight, everybody wanted to knock the opponent as fast as possible because they would get special points if they could.
The fight was furious as both kept exchanging punches after punches. However, it was Sibmuen who won that fight.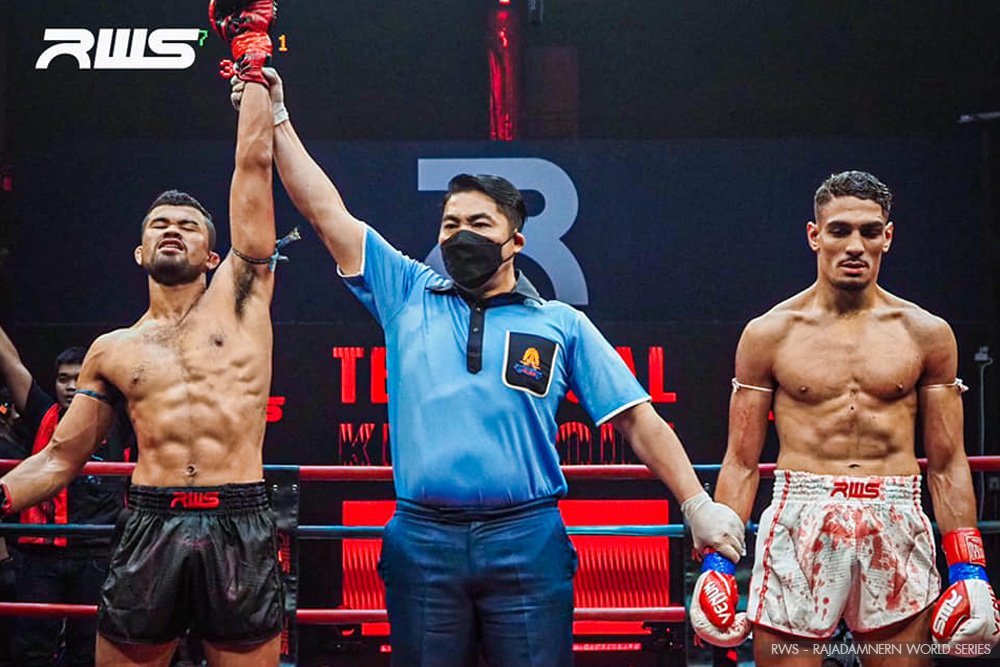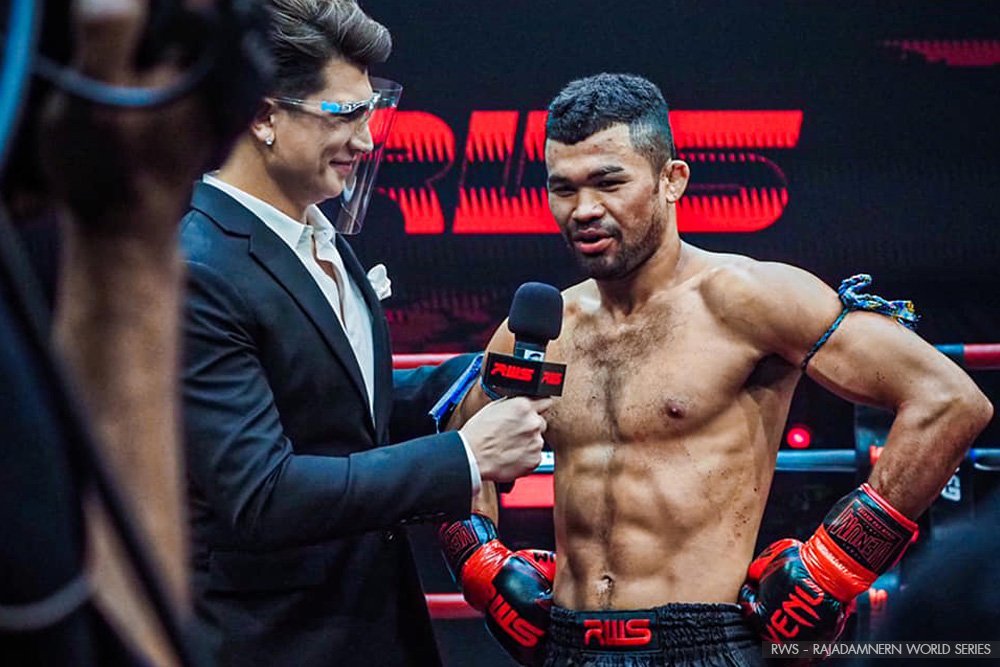 "Honestly, I didn't think about (the) knockout because it's my first fight. It was more about timing, I guess. I just thought about having fun.
"I intended to give some fun to the audiences in my comeback," he said.
"Do I expect the championship? I think everybody who came here to fight all expected it. So I will try to fight to my fullest every time."
"Rajadamnern Stadium is my home. The home where I am received with a warm welcome, smile, laughter, pride and success. Everything is here."
This is the life of Coach Nay Sibmuen, who has been through many roles, from a Muay Thai fighter, a Youtuber, to a coach. Yet, with any roles he will take in the future, his love for Muay Thai will still live on, no matter what lies ahead for him.